Director Darren Aronofsky is reportedly inches away from reuniting with Fox Searchlight on his supernatural thriller "Black Swan" and leaving his 'RoboCop" film behind at MGM.

A deal for "Black Swan" is reportedly on the verge of being sealed with Fox Searchlight in pole position to pick it up with only budgetary issues to finalize. Aronofsky and Fox Searchlight successfully teamed together for his last effort "The Wrestler" which may have put the studio ahead of the number of studios and specialty divisions who were also reportedly interested.

Led by Natalie Portman, "Black Swan" centers on the story of a veteran ballerina facing pressure from a younger rival, with some uncertainty as to whether the rival is real or if she's suffering delusions. The Mark Heyman scribed film had been compared to Alejandro Amenábar's "The Others" in initial trade announcements and may draw strong influences from Japanese manga "Perfect Blue" which previously inspired Aronofsky in "Requiem For A Dream" (Aronofsky also tried to adapt "Perfect Blue" as a feature-film at one point).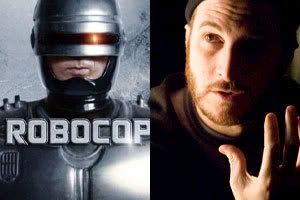 Also, as we previously noted, the developmental progress of "Black Swan" further casts a shadow of doubt on Aronofksy's "Robocop" film. With the project now on Aronofsky's horizon, MGM are fearing the worst and reportedly have began to "put out feelers for others directors who could come onto 'RoboCop.'"

Even though this is purported to be a preemptive response to potential scheduling conflicts, Aronofsky could still possibly make the tentative 2011 release for 'RoboCop,' but he's reported to work slow on development and could miss that date. So, is Aronofsky is simply just ditching 'Robocop" for "Black Swan"? Sounds like it. Works for us, we're much, much more interested in what he can do with "Black Swan." Let some hack tackle "Robocop."

The article also notes that "Bond 23" and "The Matarese Circle" -- a Tom Cruise and Denzel Washington vehicle by David Cronenberg -- are "still a few years away" which, judging by the Bond franchise's schedule, probably means 2012. [Risky Biz Blog]