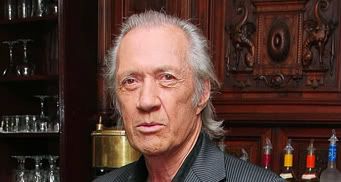 Poor David Carradine. After his death, his decidedly ok B-Movie career was retroactively and revisionistly re-examined as being a wonderful one by over-eager and romanticizing bloggers and writers. But, hey, good for him right? Everyone should be lucky enough to score an appeal like this.

Then it appears that dude did not commit suicide, but instead died by chokin' his, errr... auto erot... urmm... he died by not suicidin' himself. Yeah, that's it! And did you notice that more than half the sites waxing romantic all of a sudden stopped writing about him like nothing happened and uuhh, decided to not mention it was pretty friggin' clear dude had died from some much more embarrassing and sordid? Yeah, those tributes then all of a sudden dropped liked flies. It amused us to no end, frankly.

Coroner's reports are in and they're now saying he died of asphyxiation, but of course they won't say the dreaded A.A words -- auto-erotic asphyxiation. "The cause of death was asphyxiation, an inability to breathe, now why that happened is still what we're working on," a doctor told Reuters. Ha, yeah, we buy that. Poor Carradine. At least dude went out with a smile on his face. We can live with that.