Alright. Quentin Tarantino rushed to have his WWII saga, "Inglourious Basterds" shot and edited in eight months in time for the Cannes Film Festival.

It appeared at Cannes to mixed reviews, but Tarantino devotees said, never fear he'll have proper time to recut the movie and make it extra awesome.

Well, it's cut alright. The final version is now locked, but if you're looking for something drastically different, you're probably not going to get it. Tarantino himself says the film is all of one minute longer.

For the record? There was confusion as to just how long the version of Basterds was at Cannes. We said, "what we — and everyone else saw — was undoubtedly 2 hours and 28 minutes."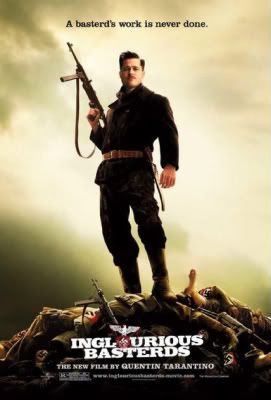 Tarantino confirms that number exactly. "The movie is actually a minute longer, in running time, than it was in Cannes. It was 2:28, without end credits, and now it's 2:29, or 2:32 with end credits," he told DealMemo. (btw, there appears to be a new poster, but look at the larger version, it appears to be fan-made. Either that or it's just totally budget and looks like crap; see the bad Pitt head photoshopped on).

Harvey Weinstein already called The Wrap's report bullshit and the director confirms this as well. "I've heard these rumors that the studios told me to cut out 40 minutes. These are complete lies." [ed. Also Harvey Weinstein how about shitting on The Wrap, a supposed "real" publication, instead of blogs, some of us who smelled a rat from minute one].

What's the extra minute? The exact one Anne Thompson said would be added: when Micheal Fassbender's Archie Hicox character meeting the Basterds.

"I added a sequence between where Mike Myers and Michael Fassbender discuss Operation Kino [the plot to blow up a theater as Joseph Goebbels and other Nazi brass watch a film], and the shootout scene in the basement tavern La Louisiane. In Cannes, we went from one to the other. I'd shot another scene, right before that, where Fassbender meets The Basterds, before they go to La Louisiane. That's back."

Another scene re-inserted (not in the Cannes version)? A "laugh-out-loud funny moment that introduces Goebbels's French translator, and cuts to a scene where she and Hitler's minister of propaganda are having raucous sex."

Any major changes? Nope, just nips and tucks to juice the pace. "It might sound weird that I added a minute, but you can add little things and actually quicken the pace, and we were very aware of keeping the pace up. To add the one scene, I reduced a couple scenes by a line here, a line there."


Eli Roth's "Bear Jew" backstory flashback sequence didn't make the cut. "We shot that, it was a cool sequence, but it got in the way of the big musical cue where we bring Donny out, with the bat. This and other scenes I shot, I'll put in reserve. If I were to do a prequel, I can just use that stuff, it's ready to go." Sounds like something that will be on the DVD.

So prequel, right? Tarantino again, reiterates that it's half written, the cast would love to do it, but he also admits he's not the most reliable person for sticking to his word or ideas. "The guys love the idea. I've got the storyline. Then again, I was going to do all these animated prequels to 'Kill Bill.' I didn't end up doing any of those."

At least the man is honest. Are the Weinsteins nervous? Yes, but again, Tarantino didn't drastically change anything, so they'll just have to deal. "Yeah, the guys are anxious about it, and I can see where that is coming from. But the movie is the movie. They read the script, they knew what they were getting into."

"Inglourious Basterds," the one minute longer cut, hits theaters on August 21.