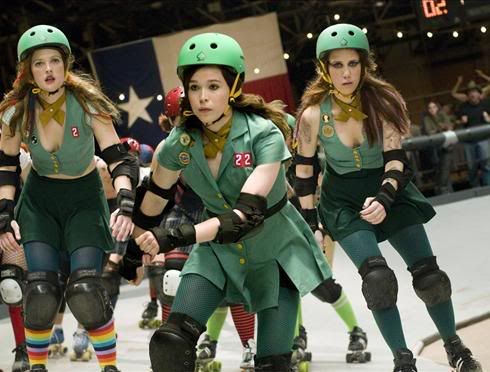 Here's the first official look at Drew Barrymore's directorial debut "Whip It!" starring Ellen Page, Marcia Gay Harden, Kristen Wiig and Juliette Lewis.

The film centers on Bliss Cavendar (Page), a rebellious 17 year old Texas teenager who signs up to play the brutal and sexy female sport of roller derby against her mother's (Gay Harden) will, finding friendship and freedom among the bruises and falls.

Page's character joins the Hurl Scouts roller derby team and, in accordance with the sport's customs, goes by the alias Babe Ruthless. Her team mates Barrymore (who also co-stars) and Wiig, meanwhile, are known as Smashley Simpson (taking the piss out of Ashlee Simpson?) and Maggie Mayhem - which, in reality, is the name the film's scribe Shauna Cross uses as her own roller derby alias in L.A.


The Hurl Scouts are rivaled by Juliette Lewis' Iron Maven and her school-girl themed team, the Holy Rollers. Maven is the film's antagonist though the character will be far from a cartoon villain: "It's not about just being no. 1 or the best," said Barrymore. "I know the feeling like you're in the right place with the right people is one of the most winnings feelings you can have."

The story will somewhat reflect Barrymore's own struggles moving into adulthood as a former child star: "I felt pressures that everybody feels, whether it's inter-office, in high school or a small town," the director reveals. "Everyone relates to expectations others have or what the world thinks. Who am I going to become? What am I going to be in this world?"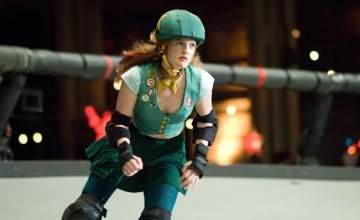 Barrymore also notes the influences she drew from her experiences working under directors as Steven Spielberg on her own directorial ability: "Everything I've learned throughout my whole life has been going into this piggy bank, and I just smashed it all over the floor for this one."

We've never been huge fans of Barrymore but, for some reason, her directing Page and company in this girl-centric sport-based coming-of-age comedy makes a lot sense and looks like it could be fun -- though now that we think of it these photos do resemble an estrogenic "Dodgeball." The film featured on our 60 Most Anticipated Film Of 2009 List.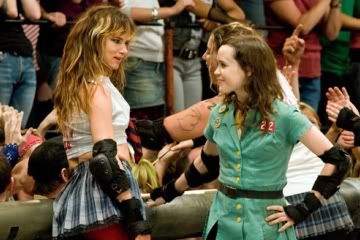 Cross - who adapted the script from her own novel "Derby Girl" - further explained the film's title and the possible misconception of it as a reference to the 1980 Devo single: "'Whip It' actually refers to a teammate move, grabbing someone by the arm and swinging her around the bend in the track to maximize speed and break ahead of the pack. It's also something that's a little aggressive and sounds painful, but is pretty fun," scribe Cross says. "It's not a Devo musical biopic on skates. Though that would be a genius movie."

Also featured in the film will rapper Eve, Zoe Bell, Alia Shawkat, Ari Graynor, Jimmy Fallon while musician Landon Pigg will stretch himself by playing a musician who becomes Page's love interest. Regular Wes Anderson collaborator Mark Mothersbaugh -- who ironically is the front man for the aforementioned Devo -- was also set to compose the film's score before being fired over creative differences.

"Whip It!" is due in theaters October 9th. [USA Today]