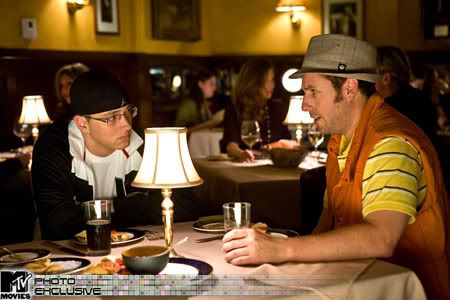 Rapper Eminem told Vibe magazine (RIP) a month ago that he has a cameo in Judd Apatow's "Funny People," starring Adam Sandler, Seth Rogen and Leslie Mann.

Homeboy was not lying. Take a look. In the film Sandler, plays George Simmons, a famous stand-up comedian and actor who is diagnosed with a rare disease and is believed to be dying. It's basically about a guy who gets a second chance at life, but then selfishly fucks it up.

MTV has the first dibs on the photo, but doesn't report why Eminem is actually in the film.

Having read the script and knowing the story well, here's our two guesses. One Simmons is notifying other famous friends that he's dying and has dinner with Eminem to tell him, judging by their grave faces. Or, there is a dream sequence in the original screenplay where Sandler's character talks to Bruce Springsteen and tries to glean wisdom from the rock star who essentially tells him, "hey, dude, we're all gonna die at some point, you should chill." Is it possible that instead of Bruce, they got Em for the role?

Evidently we'll have to wait until July 31 when "Funny People," is released to find out.