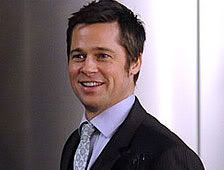 Brad Pitt, Spike Jonze, a Sumo wrestler and electronic folk-rockers Department Of Eagles are an odd combination but are all apart of the next installment of Pitt's advertising campaign for Japanese telecommunications and media company, Softbank. [Worst Previews]


Who knew Jay Z and Harvey Keitel hang out playing poker in the back of Italian restaurants in Harlem? Well not really, but that's how they roll in the rapper's new video for "D.O.A. (Death Of Autotune)." Jigga follows that up the only way he knows how - one-on-one street ball with Lebron James. [Rock&RollDaily]

Spencer Krug from Canadian indie-rock bands Wolf Parade and Sunset Rubdown on his dream collaboration: "For a long time now I've had this fantasy where Wes Anderson just calls me up, casually introduces himself, and explains that he's run out of cool 1960s and 70s pop to use for soundtrack material and would really appreciate it if I could try writing some tunes for his upcoming film. Then I'd say that I'm super busy right now but his ideas sound "interesting," and that we should talk about it over a beer." Dude, get a more original answer. If you're white, 20-something and play indie-rock isn't this the pre-requisite dream? [Pitchfork]

Jonze' Commercial

Jay-Z "D.O.A. (Death of Auto-Tune)"