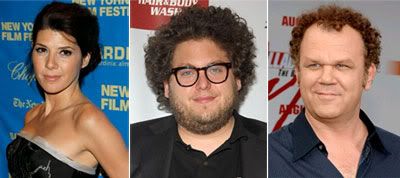 Mark Duplass, who along brother Jay are staples of the mumblecore movement, recently took to MTV to discuss his upcoming project with Marisa Tomei, Jonah Hill and John C. Reilly.

"The Untitled Duplass Brothers Project," or "Safety Men" as it was previously known, will follow an "obtuse love triangle" between a single mother (Tomei), her son (Hill) and a 40-something guy (Reilly) with a past defined by a failed marriage who begins a relationship with the single mother.

"[Reilly's character] is very much out of his league," Duplass explains. "They light up an incredible relationship but she doesn't really let him in and he finds himself on the other side of the coin, like wanting the snuggle and he can't get it." Reilly soon discovers the grown Tomei's character has been hiding a son [Hill] which produces, "a very bizarre, codependent relationship" that develops into "some obtuse love triangle, as John and Jonah wrestle for the feelings of Marisa."


"It's very funny, but it's also rooted in the humanity of these characters and a lot about what it means to be a little lonely and a little lost and trying to find your way in the world, but at the same time, all the ridiculous funny shit you do trying to find your way."

On working with Hill, Duplass adds: "He's incredible. And I'm not just saying that because you are press. He is so one of us, I just can't even tell you. He came in there and he was vulnerable and no ego and fucking hilarious and prepared things, and we're improvising, so the shit he's coming up with on the spot, I never could come up with on my own. He's humble. He's got it."

Having previously only worked with relatively amateur and or unknown actors in their previous efforts ("The Puffy Chair," "Baghead"), it'll be interesting to see how the writer/director pair now work with A-listers in this Fox Searchlight backed film. Shooting on the project recently wrapped after a six week shoot in Los Angeles and it's probably something we'll see in early 2010.