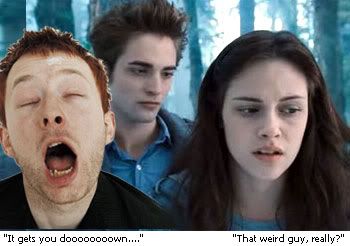 Radiohead already sullied themselves once for "Twilight," providing the music for the closing credits of the film -- which were oddly not advertised or note in advance in any way; Radiohead fans found out if and when they saw the movie in theaters... someone was embarrassed possibly?

And that relationship Radiohead has with Stephenie Meyer work might continue. According to an interview with Rotten Tomatoes (via P4K), "New Moon" director Chris Weitz, Radiohead's Thom York is interested in participating. Seriously Thom?

"Fortunately, I'm not at the stage where I have to turn anybody down yet, because everything is still kind of up in the air," Weitz said, "but I am surprised at some of the bands that have said they're interested. It's kind of great. The criterion will still always be what's right for the movie at that given moment, but Thom Yorke is interested; we might, if we're very lucky, get Kings of Leon to do something... it's exciting to be able to have access to this kind of talent."

Did you hear that? That's the sound of the bar being lowered. Alexandre Desplat, who scored Weitz's anti-religion Coca-Cola polar bears fantasy flick, "The Golden Compass," will be writing the score for "New Moon," as well, but its possible people like Yorke and the Kings Of Leon will provide new songs?

Unless Weitz is totally crazy, he doesn't sound like he's making things up, unlike McG who said he hoped to get Yorke to create music for "Terminator Salvation,"and obviously that never happened. Apparently reps for Radiohead wouldn't confirm anything, but those reps deny everything all the time (we know all too well, hello, nasty).

That "New Moon" trailer that came out around the MTV Movie Awards was seriously terrible. We're not sure why anyone would align themselves with these films other than a paycheck. Still, when "The Twilight Saga: New Moon" comes out November 20 we'll give it a fair shot, but we're obviously not expecting our lives to change.