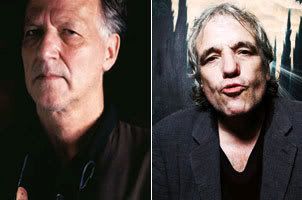 OK, we already looked at the potential line-up for the 66th annual Venice Film Festival, and it looks fantastic, as it may feature the new Todd Solondz, Wes Anderson, Steven Soderbergh and Michael Moore films, as well as the long-delayed Cormac McCarthy adaptation, "The Road."

Hello, send us there stat.

As if we need a more enticing reason to go to Venice this year: The potential auteur-driven Mike Tyson punch-out that could explode between Werner Herzog and cantankerous director Abel Ferrara.

It's very possible, according to Variety, that Ferrara's new picture, "Napoli, Napoli, Napoli" and Herzog's remake "re-imagining" of Ferrara's 1992 street classic, "The Bad Lieutenant" (now subtitled "Port Of Call New Orleans") could both be screening in competition at the festival.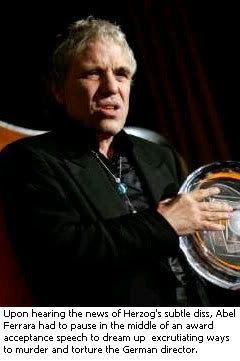 Uhh, impending WWIII? Ferrara was notoriously incensed last year when Herzog announced he was "remaking/rethinking" the film. When he first heard, the Bronx-born director didn't hesitate with his hex and response: "I wish these people die in hell. I hope they're all in the same streetcar, and it blows up."

Herzog brushed the dirt off his shoulders and probably vexed Ferrara all the more. "Let him rave and rant; it's good music in the background," Herzog said dismissively, but not before delivering the coup de grace. "I have no idea who Abel Ferrara is. Is he Italian? Is he French? Who is he?"

Oooh, burrrrnsauce. You know Ferrara was probably paralytically apoplectic after that. Though Herzog later said, "It's not a remake," and he's called it an "existential noir" in different interviews. Subbing for the manic Harvey Keitel role is Nicolas Cage with Eva Mendes, Val Kilmer, Xzibit, Jennifer Coolidge, and Fairuza Balk as co-stars.

So. Dear Venice Film Festival curators, please accept both these director's films so some kind of explosive, end-of-all-times showdown can take place and we can all once again enjoy and revel in the delicious quotes.

Sincerely,
The Playlist.