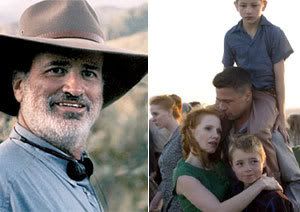 Terrence Malick's upcoming IMAX documentary "Voyage Of Time" will now reportedly be narrated by none other than his "Tree Of Life" star Brad Pitt.

The documentary grew out of the his parallel project, "Tree Of Life," with both projects seemingly stemming from "Q," a project which Malick had conceived about as early as 1995 (if not far earlier). The IMAX doc though is set to feature dinosaurs and reportedly depicts "birth and death of the universe" while "Tree Of Life" stars Pitt, Sean Penn and Jessica Chastain and is reportedly a life-spanning father-son drama that seems to revolved around daddy issues and forgiveness.

*Update*: the hawk-eyes on Team Malick seemed to notice our handiwork and the PDF containing info on "Tree Of Life," and proof that Pitt is narrating it was taken down, so we screenshot the PDF which we saved for you.



By all accounts it seems that Pitt plays the father, and Penn is the son grown up years later trying to negotiate his feelings for his difficult dad (or at least that's what we've gleaned by trolling the web for every little morsel we could find).

Technical details surrounding the two films have also been revealed. "Tree Of Life" reportedly features work using the digital RED One camera as well as a 35mm while "Voyage Of Time" of course was done in IMAX's 70mm.


Further, Malick has evidently recruited Peter Parks, a macro-photography specialist, for the projects. Parks is better known for his work in Darren Aronofsky's "The Fountain" where he used fluid dynamics in cooking up bacterias and fluids to create the effect of the space and infinity which Hugh Jackman's protagonist travels through in his -- drumroll, please! -- Tree Of Life spaceship. The result of which looked amazing and all for the price of only $140,000. Though Parks' name is currently only attached to 'The Tree Of Life" as the director of photography, his involvement will surely bleed into "Voyage Of Time" where his experiences on the "The Fountain" can be utilized to maximum effect.

While doubts had raged over both film's previously slated 2009 release, according to the film's second unit director of photography Paul Atkins, "Tree Of Life" is still slated for a 2009 release while work on "Voyage Of Time" is still in progress -- though it is not known when his site was last updated. Last we heard, from someone we met in Austin who worked on the production, "The Tree Of Life" was still filming in late March.