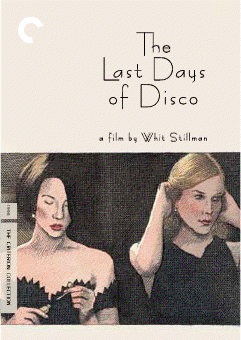 Criterion sent us a copy of Whit Stillman's 1998's comedy of manners classic, "The Last Days of Disco," which comes out next week and we were stoked. Now we can finally toss out our dog-eared VHS copy. Anyone want?

Watching the commentary track made us miss the M.I.A. Stillman even more. 'Disco' is his last feature-length film and was made more than 10 years ago now.

As we've noted many times now (perhaps to death, we want him back), the filmmaker has had two projects in the works for several years -- his other long-gestating/ going-nowhere project "Little Green Men," based on the novel by Christopher Buckley and his "Jamaica project," now titled, "Dancing Mood" -- but none have come to pass.

And in listening to the Criterion Collection commentary track, we learned that "Dancing Mood," actually was born out of working on 'Disco,' plus a few other details we didn't know about the still, fairly-unknown project (though at one point he did say, "It's an all-black cast. I'm thinking of Danny Glover and J.J. Walker for parts.")

"[For scenes] outside the clubs we didn't want disco [music] all the time and then the composer Mark Suozzo came in with the idea of Jamaican music and he introduced me to it and it's a fatal attraction because I became obsessed with it. And after 'Disco' I started thinking on and on about early '60s Jamaican music, I went down to Jamaica. Down there it's the church scene so I could go to churches and feel safe and be with people and I love the churches down there and the Christians and their community. And I started thinking about a story there and of course if they're Christians and really believers than there's things about angels and demons and so the script has angels and demons and it turns out I picked about the hardest film there is to get financed in the world, but I hope one day to do that.
So it's a religious community, music scene film with strange spirits and apparitions that need crazy CGI-work with an all black cast? Ok, maybe it is the hardest film in the world to get financed. And maybe it's no wonder it's been 10 years between films.

Uhh, maybe he should try something different? Journos will have a chance to ask him soon as he'll be at the Walter Reade theater in New York on August 27 for a screening of 'Disco' (someone send us an invite?) and he was at MOMA on August 5 earlier this month. Maybe we need to check the web a little deeper to see if anything came of that Q&A, but knowing poor Whit he's still talking-up those two projects that no one seems very interested in. Dude, check the climate out there. We love you, but it's time to put on a new record. Here's the part of the Whit Stillman story where we regurgitate an age-old Playlist sentiment: "Barcelona" is a masterpiece, his best film, one of the best pictures of 1994 and if "Metropolitan" and 'Disco,' are on Criterion, his wickedly funny sophomore effort deserves to be there too. Surely, it's a rights thing with Sony, but uhh, get on that, please and thanks.