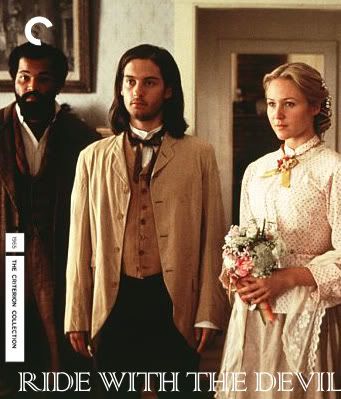 Or The Curious Case of How A Film With Skeet Ulrich And Jewel Somehow Made it To Criterion

Yup, it's true, the Criterion Collection will release Ang Lee's apparently overlooked 1999 American Civil War drama "Ride With The Devil," in May of 2010 according to Anne Thompson. So yes, if you were ever curious how far in advance the often-mysterious operating Criterion Collection schedules their DVD releases, well it now appears like almost a year away, if not more (we don't know what else they obviously have in store).

But, uhh, really? Your ed-in-chief can't speak for the whole team, but I've never seen the full film (it's been on the cable channels before, but I've always zoned out and flipped). It's got Skeet Ulrich (remember when he was the great white hope of young, 20-something Caucasian actors?) and Jewel in it so how friggin' good can it possibly be?? (the film also stars Tobey Maguire and Jeffrey Wright with appearances by Simon Baker, Jonathan Rhys Meyers, James Caviezel and Mark Ruffalo).

So was this thing actually stellar despite the fact that we skipped it in theaters and it was a box-office bomb?


Maybe not. However, what Criterion is doing with this DVD is releasing the director's cut of the film, which presumably and hopefully is much much better than the picture at least looks. "Of the 11 films I worked on with Ang, it's the only one that was not his cut," Lee's longtime writer-collaborator James Schamus explained to Thompson (Schamus also wrote the upcoming Lee film, "Taking Woodstock").

This makes perfect sense. Two weeks ago we noticed that the Walter Reade theater in New York was putting on a "The Films of Ang Lee" retrospective from August 1–11, and we thought it seemed rather odd that the one film Lee would be making a personal appearance at was "Ride With The Devil." Here's why: the August 10 screening that he and Schamus will be attending will be the rough-cut in-progress version of this director's vision, so if you're in New York and around on August 9 & 10, you might be one of the first few people on the planet to see the cut of a film that won't be on DVD until some eight months later. Sounds enticing even to us (but don't get too excited, the one screening on the 10th with Lee & Schamus in person is already sold out).

So what happened, Universal/Polygram/Gramercy who released the film fucked him? The original was already two hours and eighteen minutes, but apparently he wanted more time (Great, what is this "Heaven's Gate"?) "Most of all, the new movie has breadth and pacing," Lee said. "More plot and action. All the information is laid out. There's a big action war sequence that is longer and more detailed. It feels more epic. It makes a big difference to me."

Hmm, probably sounds great to many, but what are we lookin' at here, 3 hours or just the additional 11 minutes Thompson says were cut from the original film? Cause seriously, our time is tight and you know Ulrich and Jewel. Here's the official trailer from back in the day. One question though. Did it really need to take two years for Hollywood to figure out Skeet Ulrich couldn't really act? Oh yeah, and skeet, skeet skeet!