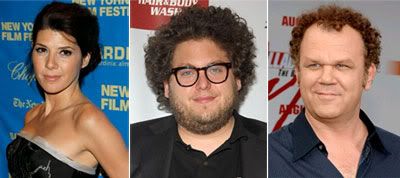 Do we all remember the upcoming project by mumblecore mavens Mark and Jay Duplass starring Marisa Tomei, Jonah Hill and John C. Reilly, creatively known in the past as, "The Untitled Duplass Brothers Project" (or "Safety Men" as it was originally known as)?

It is said to follow an "obtuse love triangle" between a single mother (Tomei), her son (Hill) and a 40-something guy (Reilly) with a past defined by a failed marriage who begins a relationship with the single mother.

Well it now has a title and that title is "Center of Attention." Test screenings have begun in L.A. Here's the new description:

A divorcee (John C. Reilly) gets a second chance at love when he begins an affair with a free spirited woman (Marisa

Tomei

) only to realize that her close knit relationship with her son (Jonah Hill) is getting in the way. This is a fresh and unexpected

dramedy

about the complicated realm of love, relationships and family.
"[Reilly's character] is very much out of his league,"

Duplass

said recently in an interview about the film. "They light up an incredible relationship but she

doesn

't really let him in and he finds himself on the other side of the coin, like wanting the snuggle and he can't get it." Reilly soon discovers the grown

Tomei's

character has been hiding a son [Hill] which produces, "a very bizarre, codependent relationship" that develops into "some obtuse love triangle, as John and Jonah wrestle for the feelings of Marisa."
When will it hit theaters? We imagine sometime in 2010, as if it were coming out in 2009, it would probably be on most Fall 2009 calendars by now. We're keeping our eye on this one. Sounds like it has a lot of potential.

Update:

we're being told the release date will likely be late spring / summer 2010 and the film is aiming to hit at

Sundance 2010.