Variety reports that producer David Permut ("Youth In Revolt") has acquired a Tony Gittelson-penned script about the life of Beatles' manager Brian Epstein titled "A Life In the Day." Epstein famously discovered the Beatles, went around to every A&R man in the U.K. to get them signed, eventually landed them a deal with Parlophone (at the time largely a comedy label) with their longtime producer George Martin and notoriously signed away Beatles likeness and merchandising rights in terrible deals that lost the band millions. He was also their rock, one of the few people the Beatles would listen to, and his death in 1967 of a drug overdose was a huge factor that directly lead to the band's break-up in 1969.

"If anyone was the Fifth Beatle, it was Brian," Paul McCartney once famously said. Epstein not only managed the Fab Four, but was juggling pretty serious drug addictions and struggled with his closeted night life as a gay man. In short, this script should be quite the dramatic/sordid/whirlwind story.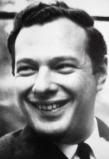 This is just one facet of the re-emerging Beatlemania in the entertainment industry. It has all kicked off with the impending release of The Beatles: Rock Band, out September 9th. Apparently everyone is expecting this kick off to spark major public re-interest in the Beatles as it has also prompted their former label, EMI, to finally release digitally remastered mono and stereo box sets of 11 Beatles albums which have sold out at retailers, including Amazon, well in advance of their September 9 release date (it's all about the 9.9.9 campaign, a veritable blanket Beatles marketing d-day campaign).

The movie industry is having its own Beatlemania renaissance, with Robert Zemeckis and Disney trying to get the rights to create a 3D version of the infamously terrible "Yellow Submarine" movie and the Weinstein Company releasing John Lennon biopic "Nowhere Boy," which will debut in London this fall.

Feel free to squeal like a teenage girl, pee on your seat and or start your own Beatlemania with the trailer below for The Beatles: Rock Band.