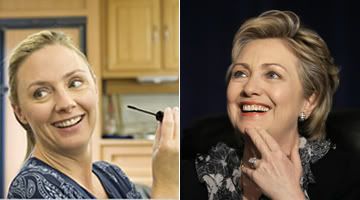 Here is a look at Hope Davis prepping for her Hillary Clinton role in Peter Morgan's "The Special Relationship" which stars Michael Sheen and Dennis Quaid as Tony Blair and Bill Clinton. The titular relationship takes place as the two were head of their respective countries.

"To play Hillary Clinton? I'm kind of winging it," she told the New York Times in jest. "No, are you kidding me? I prepared obsessively. I mean, as much as I could in the time that I was given. Of course, with someone like Hillary Clinton, obviously, anything you want is on YouTube and at your fingertips there. This movie takes place in the mid-90s through the year 2000, so it was very easy to get a hold of stuff. So yes, I did as much preparation as I could."

ArtsBeat has more pictures from the set. We didn't realize it was shooting already.