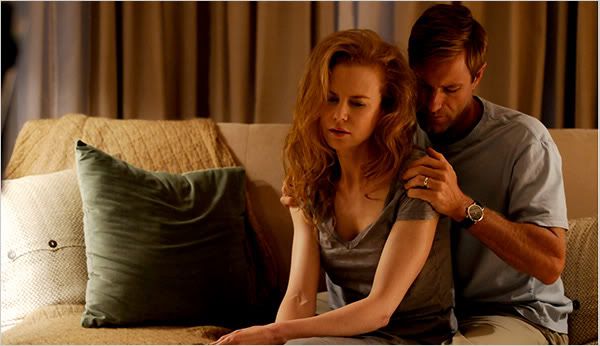 Here is your first look at John Cameron Mitchell's "Rabbit Hole" starring Nicole Kidman and Aaron Eckhart.

Adapted by David Lindsay-Abaire from his own Pulitzer-Prize winning play, the family drama centers on a young couple and the differing ways they cope with the accidental death of their young son.

"This is a passion project for Nicole. The reason why I'm in the movie is Nicole. If she wants to work with somebody, then that's what happens," Eckhart told the New York Times, revealing that he was personally recruited on the film by his co-star.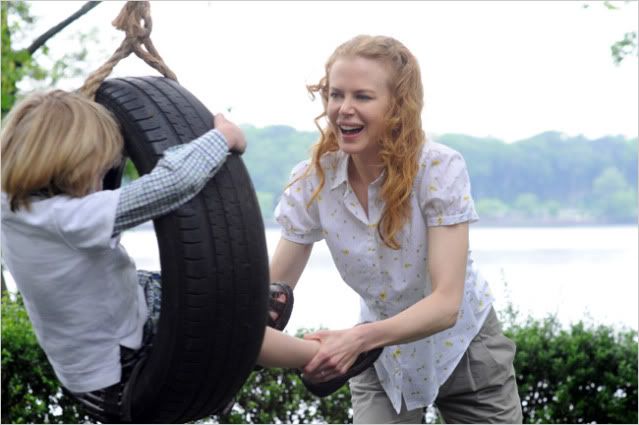 Kidman, on the other hand, revealed an attraction to the project's dark tones. "When I first responded to it, it was because I read it, and it was about grief, which fascinates me," the actress explains. "Loss and love seem to be themes that run through my work. [This film is about] a marriage and the way that people fuse through pain, that you can either be pulled apart or you can come together. In the same way that 'Birth,' a film that I did, was about loss of the loved one who's your partner in life, this is the most profound loss, and it's the worst place to tread. And so my nature tends to be to explore something that I'm terrified of."

The film will also mark the studio debut for Cameron Mitchell whose previous efforts -- "Shortbus" and "Hedwig And The Angry Inch" -- were lo-fi works utilizing mainly amateur actors. As explained by the director in an earlier interview though, "Rabbit Hole" is the perfect opportunity for Cameron Mitchell to spread his wings as he will be able to draw from his own experiences with loss and love for the project. "When I was 14, we lost our brother, who was 4, to a heart problem. It was a sudden, unexpected event. It defined a family forever and recovering from it was something we're still doing." Interestingly, before turning to Cameron Mitchell, Sam Raimi was actually attached to helm the project though pulled out to do the "Spiderman" sequel.

Filming for "Rabbit Hole" took place in Douglaston, Queens which stands in the for the film's Winchester setting with the 28 day shoot presumably completed after beginning in early July. Fox Searchlight will handle the film's 2010 release.