Let's track the progress on the fourth installment of the fourth 'Bourne' film.

Matt Damon and Paul Greengrass are onboard if they can make it happen, but it's still not looking full-steam head.

- Feb 2008, Universal lands Greengrass and Damon for a fourth "Bourne" movie despite the fact that both principals wanted to move on by the time "Bourne Ultimatum" was over.
- Summer 2008, Producer Frank Marshall says they want to shoot Bourne in the summer of 2010 and the plot will likely take them to South America. Screenwriter Tony Gilroy is busy prepping, "Duplicity."
- October 2008, Universal hires George Nolfi, a co-writer of the 'Ultimatum' film, to write the script.
- December 2008, Marshall admits that the only people truly signed on board for the project are he and Nolfi and that the series could go on without Matt Damon if needed.
- February 2008, Distracted? Nolfi is hired to write the Damon sci-fi romance film, "The Adjustment Bureau." Universal picks it up in March, and Emily Blunt is hired to play the love interest in July which suggests the picture will be shooting soon. Certainly before 'Bourne 4.'
- April 2009, Marshall, seemingly desperate to keep this thing in the news, says the film will hit theaters Summer 2011.
- Early August, 2009, Damon says the film isn't exactly on the fast track.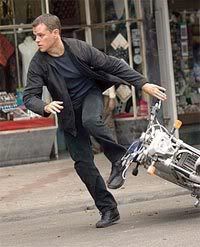 Now: In this week's issue of Entertainment Weekly (not online yet), discussing "The Informant!" his upcoming September black comedy with Steven Soderbergh, Damon says that no screenplay, let alone storyline is completed for 'Bourne 4.'

"We're hoping to make a fourth, but we don't have a story and we don't have a script. I assume it can happen, but we have to come up with a storyline that's deserving. I mean, if you see the

Bourne

character come out again and say, 'I can't remember,' you're going to get up and leave the theater. It's like, 'Get over it, buddy -- it's been three movies. What the fuck?!' "
Summer 2011 is still a ways off and shooting

could

be ready for summer 2010, but Damon doesn't sound convinced that it's happening anytime soon. It would probably mean a finished screenplay, by what, March 2010, so summer schedules could be cleared? We'll have to wait and see if they can make it happen
.
There

was

a fourth book written, but it wasn't by Robert

Ludlum

so producers have suggested they'll have to invent their own story, but Damon has a point: Jason

Bourne

finds his memories at the end of 'Ultimatum,' so where do you go from here now that he knows his entire story?