Oof. the summer that could ends with a whimper. And in a summer filled with largely shitty and disappointing tent-poles, which were maligned by critics and fans alike and, despite all this, still one of the highest grossing on record.

Hollywood gets a head start on Halloween season this weekend, literally, with two new entries in long standing franchises and both of them look dreadful. Still, there are some quite interesting choices in limited release, so spend your art-house dollar wisely as we head into the typical late August/early September blues at the box-office (next weekend will be dismal too).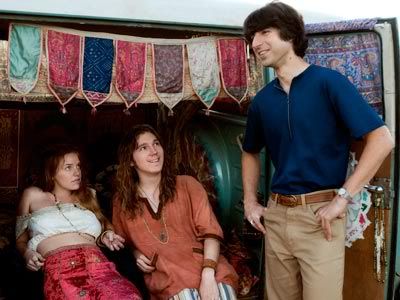 In Wide Release

: Opening on a surprising 1300 screens is

Ang

Lee's nostalgia-fest "

Taking Woodstock

."

Demetri Martin,

plays Elliot Tiber, an ambitious wannabe interior designer in late-1960's Greenwich village who retreats to the Catskills to help his parents run their motel, only to inadvertently kick-off the concert of a generation. This is odd for many reason mostly because the original plan was a limited-release campaign starting August 12, but evidently that changed somewhere along the lines and maybe it had something to do with trying to capitalize on the

40-year Woodstock

anniversary that has made a minor media ripple this year.

Anyhow, frequent Lee collaborator James

Schamus

based his screenplay on a true story, but the Woodstock festival director pretty much calls it "nonsense." We saw it at Cannes and found the film to be warmhearted, but without much kick, really. The cast is fantastic with

Emile Hirsch

, Imelda

Staunton

,

Liev

Schreiber

, and

Eugene Levy

costarring. You could probably do a lot worse this weekend; the critics stand at a suitably mixed 52% fresh rating on Rotten Tomatoes.

Rob Zombie

returns with a sequel to his reboot of the classic horror franchise: "

Halloween 2.

" We thought the most recent trailer didn't look all that horrible and the soundtrack looks excellent as usual (Zombie excels here). As always with this kind of movie, check your expectations at the door. The cast may actually make this worth a look as it include

Malcolm McDowell

,

Margaret Kidder

, and

"

Weird Al

"

Yankovic

(!!). But the film hasn't been screened for the press, so that basically tells you all you need to know. The

Weinstein

Company kept it away from critics so they wouldn't trash it. And yes, as you'd imagine, it kinda blew. We did manage to see it in advance and called it essentially a second-rate and "rote slasher picture."


Speaking of unnecessary horror sequels, "

The Final Destination

" is also out today. Couldn't the studios have spaced these out just a bit? Taking a cue from the very slightly renamed "

Fast & Furious

," this kinda reboot aims to introduce the series to a new generation of teens hungry for a loosely plotted sequence of ludicrous death scenes. While the first films in the franchise had some fun moments, it is really difficult to see director

David R. Ellis

("Final Destination" 1-3, "

Snakes on a Plane

") taking this anywhere new, but the use of 3D might make this a go-to guilty pleasure. OK, maybe not. As with "H2," no critic screenings means it's probably total trash and it certainly looks it.
In Limited Release

: "

The Wrestler

" screenwriter and former editor of

The Onion

, Robert

Siegel

's directorial debut "

Big Fan

" arrives today. The film stars the very funny Patton

Oswalt

in an almost completely dramatic role as the self proclaimed "world's biggest New York Giants fan." We got a chance to see it at the Independent Film Festival of Boston a few months ago and thought it was a strong debut, if a little rough around the edges. Critics liked it a bit more than we did and gave it a 88% RT score overall.

Oswalt

is quite good and the film

harkens

back to great 70's dark character studies like "

Taxi Driver

" and "

Scarecrow

." Definitely worth a look this weekend if slashers aren't your thing.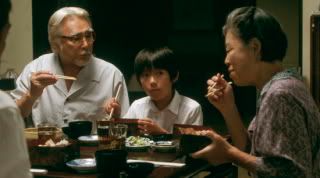 The real gem of the limited release set this weekend though is
Hirokazu

Kore-

eda

's bittersweet family drama, "

Still Walking

,"
which we saw at the
Independent Film Festival of Boston
earlier this year where it won the
Audience Award Winner
— which was well deserved as it was easily the best film we saw at that rather strong film festival (and lord

TIFF's

unmanageable website has nothing on theirs
— cheers to the indie festival with a great site
).
It's essentially about an annual homecoming for a grown-up Japanese man, who comes to visit his elderly parents on the anniversary of his older brothers death from drowning when they were children with his new family. It's about, in many ways, the painful process of leaving the nest but always being reminded that you can never leave home. Resentment and issues raise their heads once the pleasantries are dispensed with. It's very

Yasujirō

Ozu

, in it's minimalism, stillness and emotional honesty through simplicity, but just like the Japanese auteur it is heartbreaking masterclass

filmmaking

. We're a little embarrassed that we haven't written about this film more as it's one of year's best.

BAM

in Brooklyn knows what time it is and they are currently starting a retrospective of Kore-

eda's

work on August 31, that you should definitely check out if you are in the New York area. It has a 100% RT score, but there are only 11 reviews so far. Time Out calls it a touching, yet painful heartrending drama that does so much with so little, a "new classic," and they are very much on-the-mark. It doesn't look like much, but it's tremendous.
There are several interesting docs opening in limited release. First up,

Ondi

Timoner

, director of the great

rockumentary

"

Dig!

" returns with an even more outrageous subject. Her new film "

We Live In Public

" follows

Josh Harris

, "the greatest Internet pioneer you've never heard of ..." who rose quickly to fame and fortune through his Internet breakthroughs in the early days of dial-up and eventually lost his mind after allowing his life to be streamed on the Internet 24 hours a day. His millions soon followed as the dot-com bubble burst. We also saw this at this year's surprisingly great

IFFBoston

and found it "philosophically provocative, attention-grabbing, but at times nauseating to watch." But it has a 90% critical RT rating, so clearly a lot of people were intrigued.


Next is "

At the Edge of the World

" from director

Dan Stone

. This film chronicles the 2006-2007 campaigns by the Sea Shepard Conservation Society to stop a Japanese whaling fleet near Antarctica. Stone, one of the creators of Animal Planet's "

Whale Wars

," stayed off the vessels during the campaigns in order to get the suspicious crews to act as natural as possible. A winner of audience and cinematography awards at festivals across the country, it certainly seems worth a look. It has a 100% score on RT, but RT is also a bit weird when it comes to indie releases as that's basically only taking the perspective of six critics so far (no system is perfect, but

fyi

, we're looking to switch to the more reliable Meta-critic; we've gotten lazy using RT, but many agree its the most McDonald's like of all the

aggregators

).


The basis for Meryl

Streep

's character in "The Devil Wears

Prada

" — Anna

Wintour

— is the subject of "

The September Issue

."

R.J. Cutler

's documentary following the larger-than-life editor in chief of

Vogue Magazine

as she prepares to publish the Fall Fashion issue in 2007, which became the largest single issue of any magazine in history. Fashion documentaries such as "

Unzipped

" or "

Valentino-The Last Emperor

," like the industry itself, tend to be dishy, bitchy, and thoroughly entertaining. This film looks to be no exception and as it approaches the world from a different perspective — taking us inside a magazine — it may even be insightful. It's something we really wanted to see, but of course we missed all of our screenings for it. Maybe we'll catch it in theaters soon. It has a solid 83% rating.


Arriving in theaters with zero buzz, other than the geek community clamoring for it, is the the unfunny and obnoxiously dorky-looking "

Mystery Team

." There is no RT rating score and it has all of one review from Variety that says the "Amateurish presentation seems better suited to DVD or direct download, tapping into the group's viral

fanbase

, than the

bigscreen

." Uh, yeah, no shit.

Also in limited release,

Michael O. Scott

's documentary "

The Horse Boy

" is the story of a family traveling through Mongolia in search of a mysterious shaman who they believe may be able to help their autistic son.

Good luck out there.