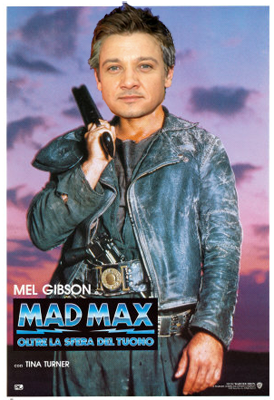 It feels like just a few short months ago when we were wondering whatever happened to George Miller's fourth installment of the Mad Max series.

Miller directed all three of the iconic, dystopian action road films that made an international star out of Mel Gibson as Max (or Captain Walker as he's known in the underrated third film, "Beyond Thunderdome"), an empty shell of a man on a desolate road trying to survive the hordes of post-apocalyptic road warriors raping and pillaging what is left of civilization.

The second and third films in the series have held up surprisingly well and "The Road Warrior," is now a veritable '80s action classic.

And now a fourth Mad Max film is apparently rising from the dead with actor Jeremy Renner presumably in the lead role, but that's not entirely confirmed as the info that has come out is relatively vague.

"The Hurt Locker" star told Modbee in a recent interview when asked what was coming next, "I'm also fighting to do the new Mad Max film with George Miller. That might be next summer. I'm screen-testing and meeting George Miller."


Interesting news. Will they make it happen? This isn't the first time, a fourth Mad Max picture, once called, "Mad Max: Fury Road," was on the docket and in fact, 'Mad Max 4' almost happened and was in pre-production in the early aughts, but then became derailed. You can blame it all on Saddam Hussein (or rather WMD-hungry Dick Cheney and his cronies, read on...)

How close did it come to happening? In December 2002, the ambitious-sounding mega-project was announced in Variety, and it didn't sound cheap, boasting a $105 million dollar budget and a $25 million dollar payday for Gibson. It wasn't just an enthusiastic, "let's develop this!" either. "This is the most exhaustively prepared movie I have ever been associated with," a-then 20th Century Fox president said. "The script is as ready as they come."

In January 2003, Fox actually set a release date for the movie, which was July 23rd 2004, but obviously, that never came to pass. The film was to begin shooting in Nambia, but in late February 2003, just a few weeks before shock and awe, the prospect of the impending Iraq invasion prompted 20th Century Fox to postpone the production until a fall start and the project never fully recovered.


In a 2008 Newsweek interview, Miller said the project was just 11 weeks away from shooting when they had to delay and then eventually cancel. "When the war in Iraq started... that really threw [the project] out for a whole host of reasons, not the least of which was that the American dollar crashed against the Australian dollar. And apart from that, just insurances, getting vehicles and stuff there on container ships--all that slowed down around the world. So we had to move on to "Happy Feet," because that [situation] was going to take a long time."

Miller, who actually owns the rights to the Mad Max franchise, not 20th Century Fox, then started developing a video game in the interim, but we're not sure that ever came out.

So will Renner play the lead? Sounds like it. In that same 2008 interview, Miller said Gibson was long out. "He all but signed to play the lead [back then], yeah, yeah. But I think that day is long gone now--it's five years later." When asked if he would attempt the film again with a different scenario, he replied, "Oh, it wouldn't be with Mel...He's in his 50's now--it's too old."

What was the intended plot? No one really seemed to know, but Miller told the New York Times in 2004, "I'm going to take Max in a new direction." Less desirable and more recent thoughts, are Miller's comments in a March 2009 MTV interview where he said he wanted to turn the fourth film into a 3D animated film for the big-screen. Ugh, sounds awful.

But perhaps the director has new found confidence in Jeremy Renner and wants to make it a traditional, live-action film? Let's hope so, as that's the only way we'd be relatively interested. There were rumors in 2004 that Heath Ledger would have been involved, possibly as the grown up version of the feral, wolf boy from "Road Warrior," but those claims seemed to just be a lot of talk from disreputable Australian sites (the always dicey Moviehole.net).

It's interesting to note that as famous as the Mad Max films have become, according to Variety, the three pictures only grossed a collective $69 million in total domestically. [Modbee via AICN]