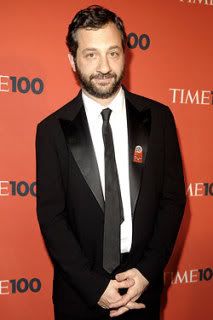 Yesterday, we speculated on what path super-producer Judd Apatow would follow after his dramedy that took the drama up a notch, "Funny People", by charting out all (or most) of the major Apatow-related projects discussed in the last two years (like "Five Year Engagement") and then breaking down what they were all about.

Today, Apatow has answered our speculation hinting at the projects that may be coming down the pipeline for him and reminding us of other projects that we've written about that he and his expanding troupe are cooking on.

"[Russell Brand's "Get Him To The Greek" is] going to shoot until the end of summer, and then next summer, we're going to shoot a movie that Kristen Wiig wrote for herself," the director revealed to ComingSoon. "That's next summer and then we're developing a movie for Bo Burnham (the kid from "Yo Teach!") and Bill Hader has a movie (the slasher flick "House Of Joel"). Kimberly Peirce ("Boys Don't Cry") is writing something I think, and we have a movie with John Carney, the guy who made "Once" writing and directing, so hopefully, as soon as I'm done and have a little break, I can help people with their scripts and help to kick things around."

Just as we predicted, looks like Apatow is ready to unleash Kristen Wigg on her own, who thus far has only played minor roles in the Apatow-verse. We neglected to mention it yesterday but Youtube-sensation-cum-Apatow-scribe Burnham has been developing his anti-"High School Musical" for a while now as has Hader with his slasher flick.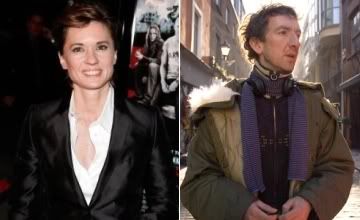 Interestingly though Apatow has revealed collaborations with Peirce, who has helmed drama films "Stop-Loss" and "Boys Don't Cry," and Carney, whose "Once" was a massive sleeper hit in 2007 even lauded by Steven Spielberg as the film which gave him "inspiration to last the rest of the year."

In a separate CS article, Peirce revealed that her Apatow project will be an Untitled Romantic Comedy in vein of Pedro Almodovar and Woody Allen and will center on one guy's group of friends' attempts to resuscitate him from the worst possible breakup and train him to find true love in this gender twist on the classic romantic comedy. Probably more appealing than "Stop Loss" was (though it was a decent flick, we mean whereas the box-office is concerned).

No details have been unveiled thus far regarding Carney's project though judging from past interviews, it could be something small and Irish.

"I'd like to do more human stories, rather than bigger films," Carney admitted to Rotten Tomatoes about what he'd like to shoot next. "I like having that control, and it's hard once you [work on bigger projects] to have control. I think ultimately audience members like to see someone controlling the quality of a film. A lot of films you see are made by committees, and studios, and producers. I guess I'll try to balance that and make a film that's small and heartfelt and sincere, and tell Irish stories, tell some stories from home that show a few other sides of the coin to people about Ireland. There are a lot of misconceptions and preconceptions about Ireland that I'd be interesting in bursting, and revealing some other sides of Irish life at the moment."

A musical connection is also a strong possibility considering his pedigree. He is also in line to helm an adaptation of Tish Cohen's "Town House," a coming-of-age story of a reclusive son of a dead music legend.