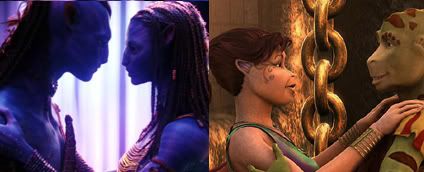 Last week the trailer for James Cameron's "Avatar" hit the interwebs and for one of the most anticipated films of the year (at least in some circles, Hitler was certainly expecting a lot) the reaction it got was more like a collective sigh than mass cheering (though there were a few street riots from the core disappointed nerd audience).

The supposed "groundbreaking" film — the 3D seriously did not feel like your eyeballs were being fucked, as promised — has been talked about by Cameron for a little over a decade now and has become uber-hyped recently, as the director and his buddies have been hocking it like a Billy Mays product.

So when the trailer hit and looked a little like a fey Playstation game — or a sub-par "Clone Wars: Thundercats!" about furry winged creatures defending their organic farm from space marines — people were greatly disappointed. Immediately the Internet was afire with commentary coming from all angles, including us, comparing the film to the "Star Wars" prequels, "Fern Gully" or the "Smurfs" meet "Battlefield Earth." Whatever your choice, there was one that seemed like a collective comparison: "Delgo."


The comparisons between "Delgo" and "Avatar" were immediately glommed on to. Over at Spoutblog they made an excellent list, "10 Films Avatar Unfortunately Resembles" and "

Delgo

" definitely made the list. The big boys even got in on it from USA Today to New York Magazine. The comparison was uncanny and people were eating it up. So it was definitely not the reaction Cameron was looking for. Instead of drooling and orgasms, he was delivered a lackluster response of "Who in their right mind would want to live vicariously through a furry ballerina??"

Now though, it seems that Cameron's about to face the music for his crimes. Or so thinks
Fathom Studios

, the folks behind "

Delgo

"

, who evidently are
considering legal action against "Avatar," or are at least,
"reviewing what legal options may be available to us"
according to
PRNewswire
,
presumably because they feel the film is plagiarism of some sort.
In this press release a Fathom spokesperson said, "From what we have seen, we are amazed by the visual similarities between the two films," and Newswire (who are generally hired to put out releases like this, so it definitely comes on behalf of Fathom) quote Movieline, JoBlo and WorstPreviews as their

evidence

. Because the Internetz said they looked "undeniably similar!" The release quotes JoBlo, who said side-by-side comparison of the two films was "pretty damn conclusive and practically warrant a likeness lawsuit from the lowest grossing movie ever to be filed against the director of the highest grossing movie ever."
Hysterical. We're

suuuure

this will hold up in court (also those who wrote in straight-face earnestness that

James Cameron

wanted

the 'Avatar'
trailer to suck based off

Sam Worthington

's

comments, ha, you gotta love geek delusion and desperation).

So, the little studio that could (producing the lowest-grossing film of all time) is considering taking on the man behind the billion dollar earning "

Titanic

"? This will probably not work out for the best where Fathom is concerned and with nothing but some Internet reactions as evidence/witnesses/Habeas corpus there probably aren't that many "legal options" available. Let's see how this pans out because it could be delicious entertainment or it could just turn into a very sad fly vs. bull situation. Whatever it is, don't expect it to bother Cameron, he's the king of the world after all.