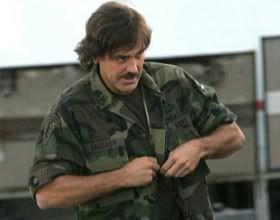 Grant Heslov's "The Men Who Stare At Goats" which will premiere at this year's Venice Film Festival has now been given a November 6th U.S. release date.

Starring George Clooney, Ewan McGregor, Kevin Spacey and Jeff Bridges, the quirky dark comedy film is inspired by Jon Ronson's non-fiction book of the same name which centers on the government's attempts to garner paranormal abilities to combat its enemies.

Here's a full synopsis of the film:

Reporter Bob Wilton (McGregor) is in search of his next big story when he encounters Lyn Cassady (Clooney), a shadowy figure who claims to be part of an experimental U.S. military unit. According to Cassady, the New Earth Army is changing the way wars are fought. A legion of "Warrior Monks" with unparalleled psychic powers can read the enemy's thoughts, pass through solid walls, and even kill a goat simply by staring at it. Now, the program's founder, Bill Django (Bridges), has gone missing and Cassady's mission is to find him.

Intrigued by his new acquaintance's far-fetched stories, Bob impulsively decides to accompany him on the search. When the pair tracks Django to a clandestine training camp run by renegade psychic Larry Hooper (Spacey), the reporter is trapped in the middle of a grudge match between the forces of Django's New Earth Army and Hooper's personal militia of super soldiers. In order to survive this wild adventure, Bob will have to outwit an enemy he never thought possible.
Also coming out of recent release date line-up shifts is news that Steven Soderbergh's Matt Damon led dark comedy "The Informant!" and Michael Moore's Wall Street doc "Capitalism: A Love Story" have both been bumped up. "The Informant!" moves up from October 9th to September 18th while 'Capitalism' will now see an earlier limited release on September 23. Interesting moves by the studios possibly to shorten differentials between their respective festival premieres at Toronto and Venice and their general releases?

Additionally, Todd Phillips' mouth-watering Robert Downey Jr. and Zach Galifianakis team up "Due Date" has now been delayed from June 4th 2010 to November 4th 2010; Ben Affleck's "The Town" has an Oscar-season November 10th, 2010 release; while Aaron Guzikowski's "The Prisoners" will hit theaters October 22, 2010 but has seemingly lost all its talent, but maybe this means they'll be announcing a new cast, soon? [DarkHorizons/AroundOsceola]