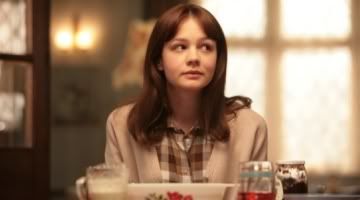 More Capsule-like Reviews from the Melbourne International Film Festival continue...

While a coming-of-age story about a charismatic protagonist -- played like a Stradivarius by Carey Mulligan -- whose mundane life is brushed aside when suddenly seduced into a life of glamor by an older man' doesn't sound like much, we'll be damned if we see something more endearing and engaging this year.

Set in pre-swinging, pre-Beatles, 1960s London, "An Education" draws us into the world of magnetic 16 year old school girl Jenny (Mulligan), whose ambitions are nothing more than to make it to university where she can "listen to whatever she wants, read whatever she wants" and liberate herself from her conservative family and community. Her father, played magnificently by Alfred Molina, whose own dreams for his daughter are seemingly self-compensating but set in stone, keeps Jenny in line. However, through verbal tennis matches and dinner table exchanges -- a particular highlight of this incredibly well written Nick Hornby screenplay -- we can already anticipate a clash between the assertive father and his just-as-cunning offspring is on the horizon.


Enter David (Peter Saarsgard), his friends (Dominic Cooper and Rosamund Pike) and their life of hip smoky, jazz clubs, art auctions and Paris. Jenny is understandably swept right off her feet and, as a romance with David prospers and they live it up, mostly behind her father's back, we see the young girl turn into a woman rightly fit for her classy surroundings. One review (which we can't recount) rightly pointed out that, as Mulligan roams the streets of Paris with her hair up, you could be excused for thinking Audrey Hepburn had returned in all her glory.

But as things pan out, the euphoria is short-lived and Jenny's yearning for change and her attempt to shortcut her way through life hit a brick wall. For every ounce of heartbreak we feel for Jenny, Sally Hawkins' barely-a-minute cameo leaves us in tatters as she sums up a life of tragedy in two-or-so lines.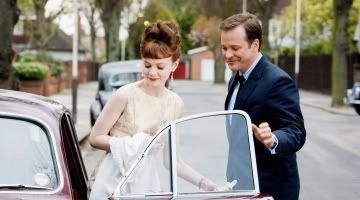 The way the film eventually concludes is a bit of a disappointment but may very well be a victim of its own previous heights. The still much-too-convenient wrap-up is put best by Karina Longworth at Spout who wrote that Scherfig's film "works as a fever dream of first love, but the wake-up is oddly unsatisfying." It's true, but nevertheless, Oscar buzz surrounding Mulligan and Molina is no exaggeration, though calls for recognition for Pike's performance as the small minded, trophy wife of sorts to Cooper is probably a bit much. An immensely enjoyable experience. [A]