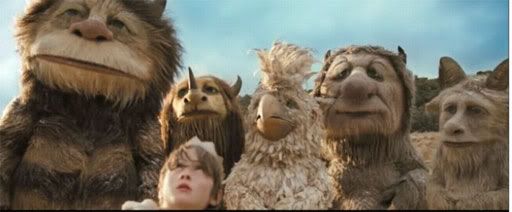 Alrighty, the new "Where The Wild Things Are" trailer has arrived and it's pretty great. However, it doesn't feature a Flaming Lips song as recently rumored.


While it is somewhat similar to the original version that many swooned over, this latest version starts out a little quieter and sweeter and features a Karen O lullaby-like track at the somewhat like the songs of hers we recently heard in the Apple 'Wild Things' featurette, but clearly a new one we haven't heard before. And of course you can hear more of that newer Arcade Fire version of "Wake Up" that the Montreal rockers exclusively re-recorded at Spike Jonze's request.

There is a lot of new footage in this trailer too and extended scene of let-the-wild-rumpus-start frolicking and playing, plus some closer looks at the Wild Things faces. It's pretty wonderful. If we have one criticism it's that the faces do look slightly CGI'd, or you can tell there's special effects going on there, but perhaps once you're in the movie you'll be so engaged you won't even notice. A minor quibble, this things still looks moving, powerful and potentially an amazing experience that we're greatly looking forward to (think about this year's lackluster ComicCon, the only thing that seemed to really blow people away was 'Wild Things').

The film hits theaters on October 16 and looks like it will bypass the fall film festival circuit, at least so far that remains the case.