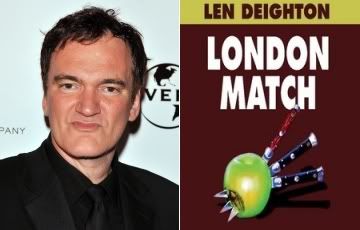 Quentin Tarantino has been traveling around the world recently, promoting his new film "Inglourious Basterds" and talking about everything but in the meantime. In the past few months he's talked about the debt "Casino Royale" owes to him, a prequel to "Basterds" and has been denying rumors of adaptations left, right and center. Now, though, it seems he's talking about something more concrete? (Although, when it comes to Tarantino even the concrete isn't safe.) Anyway, the director was doing some Q&A with the U.K. press and Yahoo picked up some good quotage regarding the director's desire to adapt a Len Deighton spy novel trilogy (his most famous work is perhaps, "The Ipcress File," which was turned into a movie starring Michael Caine). He name-dropped a few British actors he's fond of including Simon Pegg, Caine and Kate Winslet. Simon Pegg as a spy? Maybe.

"I am a huge fan of Simon

Pegg

(who he tried to cast in '

Basterds

,' but the gig conflicted with "

Star Trek

" shooting), so I would definitely love to work with him. I also think Kate

Winslet

is one of the best actresses that ever lived, so I would be honored to work with her. I am also a huge admirer of

Anthony Hopkins

. I would also love to work with Michael

Caine

. I can see them appearing in my movies, it just has to be right."

He goes on (and on, and on) and perhaps only brings up these projects because he's talking to the U.K. press?
"I love England. It would be a wonderful life experience to have an excuse to work here for six or nine months. One of the things I am musing about doing is the trilogy of Len

Deighton

books, "

Berlin Game

," "Mexico Set" and "

London Match

." The story takes place in the Cold War and follows a spy name Bernard Samson. What is attractive is the really great characters and the wonderful opportunities of British and German casting."
So will we see the thing? Who knows with Quentin. He has a lot of passions, but not a lot of follow-through and he moves slow, not banging out a picture year after year (something he says he never wants to do). We'd look forward to it, if it did materialize but knowing

Tarantino

he might see a red bike pass by and get distracted. Though it is about time we got to see a little more of Kate

Winslet

(i.e. her feet).
[Yahoo/

Slashfilm

]