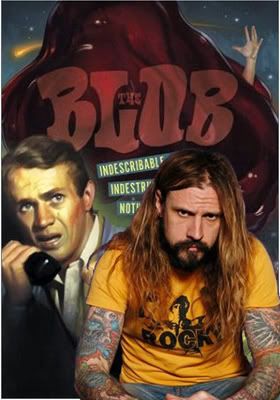 Rob Zombie sure loves his horror films and his horror remakes, though considering his track-record so far ("Halloween II" was totally forgettable and rote), he might want to stick to original ideas and projects (as in the more successful, "The Devil's Rejects" and "House of 1000 Corpses").

But nope. The rocker turned filmmaker is just too attracted to remakes it seems — and or remake/reboots are just easier projects to get off the ground/ the temptation is just too much to resist.

Zombie is turning his "Halloween"-centric eye to a remake of the 1958 horror classic, "The Blob," which was about a gooey and alive mass of goop that terrorizes a community (we always thought that was the strangest concept for a movie) and launched the career of our favorite one-note actor Steve McQueen.

Where does this leave "Tyrannosaurus Rex," his bad-ass biker revenge movie that he originally set up at Dimension until they strong-armed him into doing the poor idea of "Halloween II"?

Probably dangling in the wind until the times change and some studio wants to give a chance to something that's not a franchise. However, this is probably a good thing. It's our understanding that since he directed "Halloween 2," he's been released from his Dimensions project and is free to set up the project shop wherever he wants. Rob, you should call up Robert Rodriguez's Troublemaker studios, if "Machete," can get made, why not 'Rex'? — let's not forget Zombie also did a fake trailer in "Grindhouse" so that connection is already established.

According to Variety, the picture will shoot next spring and Zombie hopes to modernize it so it's not a silly joke to contemporary audiences. "My intention is not to have a big red blobby thing — that's the first thing I want to change. That gigantic Jello-looking thing might have been scary to audiences in the 1950s, but people would laugh now." At least he's aware. Producing the film is a company called Genre Co. that features former Dimension guy Richard Saperstein. Apparently they have the funding and about a $30 million budget. Not too shabby.

Where does this leave Sony's proposed "Blob" remake, which was supposed to have a more "Ghostbusters" bent and was called "B.L.O.B."? Hopefully dead in the water as that sounds kind of awful.

You might think this is just another horror movie, but Zombie tells the trade the picture is more of a "science fiction movie about a thing from outer space," and that he's been itching to leave the terror genre. Will Zombie tackle a "Halloween 3"? Obviously the above suggests he's finished with Dimension Films and he just told THR that he's "done with 'Halloween'," but then again he also swore after the first one he'd never do a sequel.
Zombie's been a busy man this year, in addition to 'H2' hitting theaters today (don't bother) his animated film, "The Haunted World of El Superbeasto" is scheduled for release on September 22. — Additional reporting, Drew Taylor.