Despite wrapping photography earlier this year, things have generally been quiet as a mouse on the front of Mark Ruffalo's directorial debut, "Sympathy For Delicious."

Touted for a potential TIFF premiere and late '09 release, the film was been completely A.W.O.L. on all accounts; that is except musically. Recently, Montreal indie-rockers The Besnard Lakes were announced as the musicians scoring the picture and they will now be joined by members of prog-rockers The Mars Volta and indie-rockers Shiny Toy Guns who are also contributing musically to Ruffalo's film.

"You know Mark Ruffalo?" 'Guns keyboardist Jeremy Dawson said in an interview with City Pages's Gimmie Noise Music section. "He's almost finished with his new movie, and one of the main songs that's in the movie — it's about a band — and the song the band learns is one that Chad [Petree, Shiny Toy Guns' guitarist] and I wrote. The guy...the lead singer from Mars Volta [Cedric Bixler-Zavala] sings it. He's really awesome. It should be a big movie."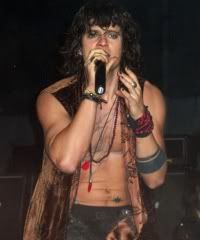 This basically means Bixler-Zavala is almost certainly going to be the musical stand in for Orlando Bloom — who plays a rock singer and was seen in set pictures for 'Delicious' looking quite a bit like the Mars Volta rockers earlier this year. Bloom can act (sort of), lucked out starring in two of the biggest franchises of the last decade ("Lord Of The Rings," "Pirates Of The Carribean") and is dating Australian supermodel Miranda Kerr. Surely he can't be blessed with a great singing voice as well, right? Call in the Volta.

"Sympathy For Delicious" stars Ruffalo, Bloom, Juliette Lewis, Laura Linney and John Carroll Lynch and centers on a paralyzed DJ, played by real-life paraplegic actor Christopher Thornton, struggling to survive in his wheelchair on the streets of L.A. He then turns to faith-healing and mysteriously acquires the ability to cure the sick — although not himself. On his journey, he encounters the likes of a Jesuit priest (Ruffalo) who helps him come to terms with the limits of his gift and a rock singer (Bloom) that exploits the suddenly famous healer.

Shiny Toy Guns - Ghost Town

The Mars Volta - Since We've Been Wrong