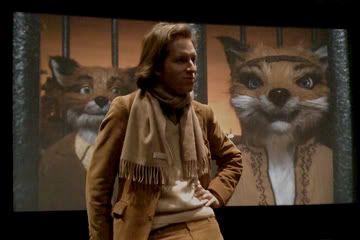 - It's been a while since he's been seen in person? Thanks to fellow director Mark Romanek and his photo blog, here is a sight of Wes Anderson in the editing room for his upcoming film "The Fantastic Mr. Fox." It looks like the characters on-screen behind him are Mr and Mrs. Fox, voiced by George Clooney and Meryl Streep. 'Fantastic Mr. Fox' will debut at the London Film Festival this October.

- Variety [via InContention] reports that a significant reason why Martin Scorsese's "Shutter Island" was delayed was the fact that Paramount felt it was more financially viable to back Jason Reitman's "Up In The Air' for an Oscar run using the festival circuit and subsequent award-season buzz. Sounds like a plan.


- Here is another look at Aaron Johnson in his role as John Lennon in Sam Taylor-Wood's "Nowhere Boy." Co-starring Thomas Sangster as Paul McCartney, the film centers on the early days of Lennon including formation of the skiffle band The Quarrymen which went on to become The Beatles. The film is scribed by Matt Greenhalgh of "Control" fame.

- Andrea Arnold's "Fish Tank" and Ken Loach's "Looking For Eric" have respectively taken home the top prize and the "Distributor Of Joy" awards at this year's Norwegian Film Festival. Joining them in the critical acclaim was Pixar's "Up" and Michael Haneke's "The White Ribbon" which left with the audience award and the Andreas award.

- A new trailer has debuted for Alejandro Amenába's "Agora." Starring Rachel Weisz, Max Minghella and Oscar Isaacs, the film centers on astronomer-philosopher Hypatia of Alexandria (Weisz) and her relationship with her slave Davus (Minghella), who is torn between his love for his mistress and the possibility of gaining his freedom by joining the rising tide of Christianity. Interestingly, sounds like they used the same narrator from the "Zombieland" trailer for this. We saw the picture in Cannes, while it's an interesting concept, the movie is decidedly dull.