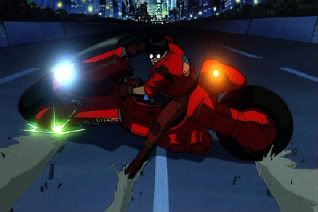 - Warner Bros. still seem keen on pushing ahead with their unnecessary live-action "Akira" remake. Collider are reporting that Mark Fergus and Hawk Ostby have taken over scripting duties. As CHUD rightly points out, Alfonso Cuaron was responsible for much of the "Children of Men" script, which the duo were credited with, but they pretty much nailed "Iron Man," so if it has to be written, there are worse guys to be doing it.

- Are you sick of vigilante movies? Nicolas Cage isn't! He's just signed on for "The Hungry Rabbit Jumps," to be helmed by Roger Donaldson ("The Bank Job"). In it, Cage will play a man who becomes involved with an underground vigilante organization after a brutal attack on his wife. Tobey Maguire is producing, the film shoots in New Orleans in January, and will almost certainly go through the same beats as "The Brave One" or "Death Sentence." Meanwhile, is Cage going to star in "The Green Hornet" as a villain or what?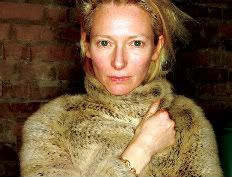 - Variety sat down with director Luca Guadagnino, whose latest film "I Am Love" is playing the Venice Film Festival this week, and, alongside his news about the "Suspiria" remake, he revealed that he wants to reteam with "I Am Love" star and producer Tilda Swinton to remake "Auntie Mame," the 1958 Rosalind Russell-starring Best Picture nominee, which Guadagnino says will be a "rock-n-roll, super funny, super mainstream movie." An unexpected step for the pair, but anything that leads to more Tilda Swinton can only be a good thing, right?

- Patrick Lussier ("My Bloody Valentine 3-D"), has been appointed by Dimension to write and direct "Halloween 3-D," the unnecessary continuation of the slasher franchise. With Rob Zombie exiting the series, it remains to be seen how much of his influence over the series will be retained. Which can only be a good thing, quite frankly. In other "new money for old rope" news, Dimension have also hired terrible, overpaid writer Ehren Kruger ("The Ring," "Transformers 2") to reboot the "Children of the Corn" franchise.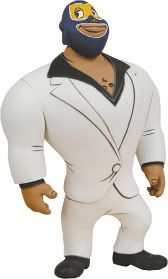 - On the subject of Rob Zombie, his animated movie "The Haunted World Of El Superbeasto", which was meant to be nearly finished almost two years ago, as we reported at the time, is now available on video-on-demand, via Comcast and DirectTV, before getting a limited, 50-screen theatrical release this weekend, and then hitting DVD on September 22nd. Focused on a washed up Mexican luchador, and based on Zombie's comic book, it has a voice cast featuring Paul Giamatti, and will therefore be better than the two Halloween movies put together.

- Oscar-winning screenwriter Diablo Cody has posted her fashion donts in Blackbook. She rails against a lot of pretty minor faux pas or obvious hipster fashion while, ahem, posing in a leopard print jacket...

- In a rare example of a story coming out of a British tabloid that isn't complete horseshit, Richard Curtis will write an episode of the next series of cult British sci-fi show "Doctor Who," which will feature a famous historical figure. Curtis joins an impressive line up for the series, which includes new showrunner Steven Moffat (writer of the Spielberg/Jackson "Tintin" movie), and, if rumors are to be believed, fantasy author Neil Gaiman. Curtis also hints that he's writing a low budget time travel movie, and a film about malaria.