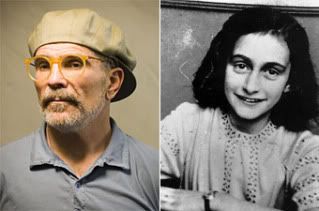 So according to The Wrap, Disney has put the adaptation of "The Diary of Anne Frank," project — written by legendary playwright/director/ multi-hyphenate David Mamet — into turnaround.

This essentially means, Disney has passed on the script, and are hoping to sell the rights to the project to another studio in exchange for some of the cost of development (it's what happened to "Watchmen," but fiasco is an extreme example of what rarely goes that poorly).

Apparently Mamet's version of the script was "too dark...very intense, and scary," for the studio. When the project was first announced, many assumed from the get-go that this would essentially happen, but we presumed one of the sharper, non-family-friendly tentacles of Disney (and yes, they exist, see Touchstone) would be in charge. Evidently we were wrong.

Others also puzzled why someone like Mamet would tackle this subject and seminal book (probably having only ever seen "Glengarry Glen Ross"), but several of his books and movies deal specifically with Jewish identity including "Homicide," that stars Joe Mategna as a inner-city detective who becomes aware of his newfound Jewish consciousness when a case he is reluctant to take leads him to the discovery of a Zionist organization operating in the city that he inadvertently becomes an accomplice to.

Several of his novels deal with semitism and Judaism including, "Five Cities of Refuge: Weekly Reflections on Genesis, Exodus, Leviticus, Numbers and Deuteronom," "The Wicked Son" and "The Old Religion," which was about Leo Frank, the only known American Jew in history to be lynched on American soil (no relationship to Anne). So yes, he really was the perfect choice for the story, but evidently it was not to be.

Apparently rather than a straight-up adaptation of the tale that was a personal chronicle of a young Jewish girl hiding with her family for two years during the Nazi occupation, Mamet veered off into another direction "about a contemporary Jewish girl who goes to Israel and learns about the traumas of suicide bombing."

This could mean Mamet could tackle two other projects in gestation, "The Prince of Providence" which was announced in 2004 and "Come Back to Sorrento" which he was writing for filmmaker Michael Worth. Or he could churn out two new scripts, plays or books by the time the weekend is over, who knows, but it sounds like 'Diary' has been closed for now.