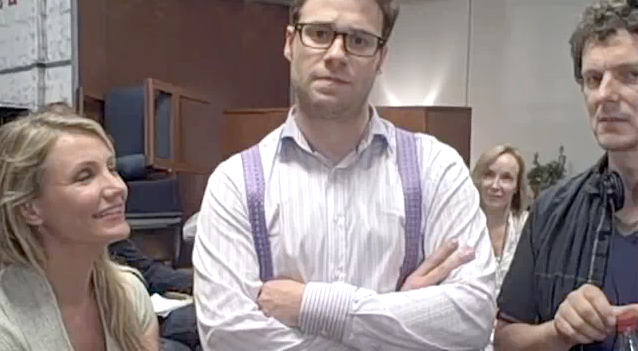 - Here's your first look at Seth Rogen as Britt Reid, the title character's alter ego, in Michel Gondry's "The Green Hornet." Cameron Diaz and Gondry also feature. Of all places, this was screen-capped from a birthday greeting video to musician Beyonce.

- Leonard Nimoy has admitted that his "Elder Spock" character will not be returning in any potential "Star Trek" sequels. "I think the Spock character is very well established as portrayed by Zachary Quinto," Nimoy told fans at some geek convention. "And I think if you saw the movie, Bill [William Shatner]," he told his pal, "You'd say the same of Chris Pine." In typical Shatner fashion, he simply responded: "...bullshit."


- Contrary to previous reports, Sylvester Stallone has revealed his newly-announced fifth installment of the "Rambo" franchise will in fact be set in the Pacific Northwest. The new adventure will find Rambo cleaning up a U.S. Military experiment on elite soldiers gone awry. Stallone reportedly compared the soldiers to the Immortals from the Greco-Persian Wars. A new teaser poster has also been thrown together -- by a high-school graphics class? -- to exhibit at TIFF.

- Irishmen Colin Farrell, Cillian Murphy and Gabriel Byrne are set to team up for Brendan Gleeson's directorial debut, "At Swim-Two Birds." Based on a novel of the same name by Flann O'Brien, the film is a coming-of-age tale about a 19-year-old student who sees the fictional characters in the play he's writing intertwining with the people in his life. Meanwhile, fellow Irishmen Liam Neeson and Bono will be working together on "The Virgin Of Las Vegas," the story of an aging show band singer, prone to drinking and living in Vegas, who finds his life turned on its head following the arrival of a mysterious stranger. Bono will be producing while Neeson will star.

- Here is a set visit video on Louis Letterier's "Clash Of The Titans" remake starring the likes of Sam Worthington, Mads Mikkelson and Gemma Arterton.