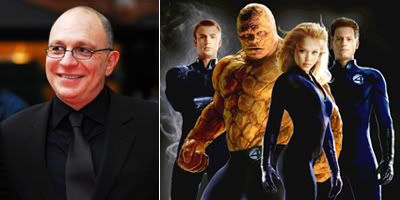 Oh good lord. On the brink of Disney's buyout of Marvel, 20th Century Fox has now hired producer Akiva Goldsman, infamously renowned for his deplorable "Batman & Robin" script, to lead a reboot of the "Fantastic Four."

The franchise saw two films this decade, both helmed by Tim Story and starring the quartet of Ioan Grufford, Jessica Alba, Chris Evans and Michael Chiklis. Despite being slammed by critics alike though, the films still managed to gross over $600 million worldwide which is likely to be part of reason why a reboot is now being sanctioned, cause quality isn't part of the picture.

Also on board is "Heroes" producer and "The Green Lantern" scribe Michael Green who has been brought on board to pen a script for the reboot.

Fox, who are also considering a "Daredevil" reboot, will just not let a bad project die a quiet and dignified death. And or they just can't help themselves milk more money from a project. Sony are the same. "Spider-Man 4," with Raimi and co. is on the docket, but James Vanderbilt, hired to write 'Spidey 5 & 6,' is writing with reboot in mind says DealMemo (Tobey Maguire, Raimi and Kirsten Dunst probably not wanting to be tied to these films for the rest of their natural born lives).

Fox controls "Fantastic Four" in perpetuity, as well as "Daredevil," "X-Men" and "Silver Surfer" so expect more and more of these films (this is why "X-Men babies" or junior high or whatever its called, is also up for consideration; milk it!) and is as many permutations and combinations as they can muster. "Silver Surfer meets Daredevil"? Hey, that's a film!

Studios need to learn making a serious live-action film about a family of super-heroes is near impossible and this is why the Tim Story "Fantastic Four" films devolved into corny camp and comedy. The closest anyone's come to creating a successful film like this was "The Incredibles," which essentially was the same concept slightly and wisely tweaked for the animation world.

We'd tell you the two 'FF' films were an embarrassment, but clearly you have two eyes and ears. Yet another day, yet another predictable and lame-brained Hollywood announcement.