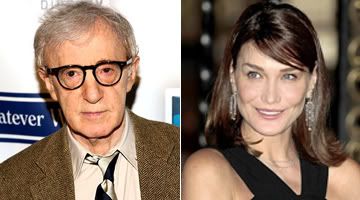 - France's first lady Carla Bruni-Sarkozy has reportedly agreed to star in Woody Allen's Paris-set project due to film in the summer of 2010. Allen had expressed interest in casting the actress/musician and had previously discussed with the press the prospect of asking her to join.

- Two test screening reports have revealed the scope of performances in Rob Marshall's "Nine." Marion Cotillard and Penelope Cruz were reported as having the best Oscar chances as Cruz apparently has the "meatiest role of anyone in the film and milks it for all its worth" while Cotillard plays "the most sympathetic role" and is "the character you care about and the one people will likely remember." Kate Hudson, Judi Dench, Sarah "Fergie" Ferguson, Sofia Loren and Nicole Kidman all received mixed reviews and were noted to have smaller roles. Daniel Day-Lewis also got good wraps.

- Lee Daniels' "Precious," Lars Von Trier's "Antichrist" and Hirokazu Koreeda's "Airdoll" have been unveiled as the headliners for this year's Chicago Film Festival which runs from October 8th to the 21st. The rest of the line-up can be found at the source.

- Colin Hanks, Ari Graynor, Ann-Margret and Jeffrey Tambor are set to lead Gil Cates Jr's indie-comedy "Lucky," the story of a fledgling serial killer who wins the lottery and attempts to pursue his lifelong crush. Shooting to start next week in Iowa.

- Here is a short featurette on Drew Barrymore's "Whip It" which has a fair bit of actual film footage interwoven in it. The more we see from this, the more we think, "hey, this might not be half bad." Probably can't be worse than that other film written by Ellen Page's old friend...