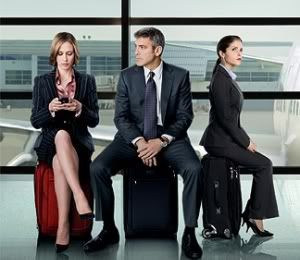 -Two studios are jockeying for position regarding George Clooney films, with Overture selecting November 6th as the release date for "Men Who Stare At Goats" and Paramount eyeing November 13th for their limited engagement "Up In The Air" launch. While "Air" is only a limited release, Paramount is reportedly looking for a new date, possibly during Thanksgiving, with a wider holiday time berth.

-Jessica Alba has been added to the cast of "Little Fockers" as a pharmaceutical rep (haha) who causes havoc for the male characters in the cast (Ben Stiller, Robert DeNiro, Owen Wilson, Teri Polo, Blythe Danner, etc., i.e. The "Meet The Parents" Mcfranchise). Because a happily married man would not be tempted by any of Ms. Alba's absent charms, we're betting she could be listed in the credits for this one as "Piece of Ass."


-Guess it wasn't so hot after all — after indie company Alcon won a bidding war for Aaron Guzikowski's Donald Kaufman-esque thriller "Prisoners," the project was abandoned by stars Mark Wahlberg and Christian Bale and even potential director Bryan Singer, and refashioned as a smaller $40 million project. With that comes a talent downgrade too, as hacktacular never-was Antoine Fuqua ("Training Day") has come aboard to direct. Fuqua recently helmed "Brooklyn's Finest," which was thrown back in the editing bay to be recut after a lukewarm Sundance reception. It was recently bought (again) by Overture films who bought it from the essentially-going-under Capitol Films that could never afford to put it out.


-Paul Haggis's upcoming "The Next Three Days" has added two more dubious cast members who, no doubt, will be given some typically laughable Haggis-ian dialogue. Olivia Wilde, a TV actress if there ever was one, will play a married friend of a man (Russell Crowe) determined to prove his wife's innocence in a murder case (Elizabeth Banks), while the decidedly suburban Johnathan Tucker will play a "street tough" (oh lord) who runs a meth lab (dear God, no).

-Brett Ratner claims his story in "New York I Love You" is autobiographical, but slightly changed, in that he lost his virginity in Central Park to a woman tied to a tree. Only difference from real life? She was a paraplegic. Thanks for clarifying, Casanova.

-Dwayne Johnson is returning to action films, set for a lead role in CBS Films' "Faster." He plays an ex-con looking for revenge for his brother's death. Phil Joanou ("Gridiron Gang") was set to direct, but he's vacated the director's seat for mediocrity peddler George Tillman Jr. ("Notorious"). Hey, whatever gets Johnson away from banal kiddie films.


-With "Zombieland" drawing critical praise, writers Rhett Reese and Paul Wernick confirmed they are working on a couple of drafts for a "Venom" movie spin-off from the "Spider-Man" films. They wouldn't comment on any ties with the upcoming "Spider-Man 4" -- likely this is because Spidey 4 is still in pre-production, but could Sony be building their own Spidey universe separate from Marvel Studios' "Avengers" buildup? And who's the asshole who actually asked for a "Venom" movie?

-Oren Peli, director of "Paranormal Activity," is in pre-production on his next film, "Area 51." The sci-fi film is reusing the found-footage aspect of Peli's debut, concerning a missing crew looking for a hidden alien spacecraft in a government facility. "Paranormal Activity," which debuted with late night shows last weekend in small cities, expands this weekend into twenty more markets.