Mid-September and fall is looking up. After a couple of dreadful weeks of cringe-worthy options, the multiplex has become a bit less frightening. Get out there and show your support for good work, so the dry spells won't last this long in the future. We can only hope, right?

In Wide Release: The most notable release this week has got to be Steven Soderbergh's "The Informant." We've been excited to see him get back to the quality and stylish comedy of "Out of Sight" or the "Ocean's" movies and he has certainly delivered. We just caught the film at TIFF and thought that it was deliriously enjoyable, if a bit slight. Another Playlister caught the film up north as well and found t
he film "wholly unique and powerful (and, yes, goofy)." The soundtrack alone is worth the price of admission but this black comedy starring Matt Damon as a bumbling whistleblower deserves your time and money this weekend all around. Just look at the great supporting cast: Scott Bakula, Joel McHale, Melanie Lynsky, and "Arrested Development"'s Tony Hale. Rotten Tomatoes has the film at 67% fresh and counting.


"Juno" and "The United States of Tara" scribe Diablo Cody returns this week with her second film after her smash debut, "Jennifer's Body." Notable whiner Megan Fox stars alongside "Mama Mia"'s Amanda Seyfried as a demon-possessed high school student with an insatiable appetite for men. Though we quite liked the screenplay, we just caught the flick at Toronto and found it tart, largely humorless and tonally challenged. Anyhow, something major was lost from page to screen, and we can't help but place the blame on "Aeon Flux" director Karyn Kusama, though the emo-tastic Fueled by Ramen soundtrack doesn't help. JK Simmons, Adam Brody, and Johnny Simmons costar in the 34% fresh rated film.


Maybe it's Hollywood's renewed obsession with 3D, but it seems as if animated films are released just about every month these days. This weekend, the kid in you can rejoice over "Cloudy With a Chance of Meatballs," based on the book most of us read as kids, even if it was never anywhere near as beloved as "Where the Wild Things Are." The psychedelic story of a town where food starts falling in the place of rain stars the voice talent of Bill Hader, Anna Faris, Andy Samberg, and Bruce Campbell with a score by Devo's Mark Mothersbargh. The critics are mostly pleased with the cuisine with the film scoring an 91% fresh rating on RT.

If you're desperate for a RomCom fix this weekend, your only real option is "Love Happens" from writer-director Bryan Camp. The presence of Aaron Eckhart makes us hope that its a better option than whatever Sandra Bullock led vehicle is still lingering around in theaters, but then again, it stars Jennifer Aniston, so we can't be sure. She's done good work in the past, "Office Space," "The Good
Girl," but it is precisely this type of pedestrian drivel that stops her from being a legitimate actress. Or maybe this will be really good and we'll all be eating our shoes, Herzog style. With a 23% fresh rating, we won't start boiling the water just yet.

In Limited Release: We've been championing Jane Campion's latest, "Bright Star" since we saw it at Cannes earlier this year and it finally arrives on 19 screens this week. It is certainly Campion's best work since "The Piano," hell, Tarantino loved it and so should you. It's a devilishly funny anti-masterpiece theater story of John Keat's secret love affair with Fanny Brawne, the stylish minx of a girl next door. Their unlikely friendship and then budding romance is then threatened by an insurmountable illness that befalls Keats. Starring Ben Whishaw, Abbie Cornish, Paul Schneider, and Kerry Fox, "Bright Star" is currently 82% fresh on the tomatoes site.


But all is not quiet just yet on the indie front as Guillermo Arriaga, writer of "Babel," "21 Grams," and "Amores Perros" makes his directing debut this weekend. "The Burning Plain" stars Charlize Theron as a beautiful waitress whose sexually confused past inextricably links her to other mysterious characters. We reviewed the movie a few days back and thought it was a gimmicky retread of Arriaga's past work. Next time out he'll need to prove he's more than a one-trick pony. The cast also includes Kim Basinger and John Corbett and it is 42% fresh on Rotten Tomatoes.


Arthouse titan Claire Denis' new film "35 Shots of Rum" gets a limited release today. We've been looking forward to the film since last year's TIFF. The sure to be meditative film concerns a retired metro conductor living in a Paris suburb with his beautiful grown daughter, the object of a neighbor's romantic interest. Like many of her films, cult English group Tindersticks have collaborated on the soundtrack. Alex Descas, Mati Diop, Nicole Dogue, Gregoire Colin star in the very favorably reviewed film, coasting in with a great 93% fresh rating.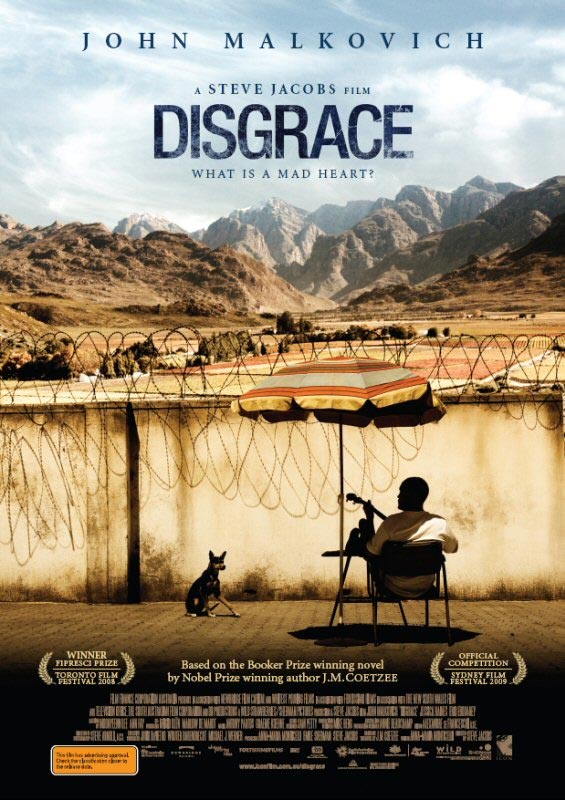 "Disgrace" is an adaption of South-African born author J.M. Coetzee's Booker-prize winning novel. Steve Jacobs directs John Malkovich as a professor of Romantic Literature who begins an affair with a mixed-race student in post-Apartheid South Africa. The buzz has been pretty good on this film since it premiered in Toronto last year and won the Prize of International Critics. Alongside Malkovich, the cast includes Jessica Haines, Eriq Ebouaney, and Fiona Press and is a very less than disgraceful 85% fresh on RT.

Other options this week include the Juliette Binoche-led love-letter film "Paris." Directed by Cedric Klapisch, the movie has a 71% fresh rating. Have fun at the movies this weekend and get ready for a fall that will hopefully do wonders to cancel out the disastrous last few weeks.