In what seems to be the strongest indicator so far that Martin Scorsese will tackle his Frank Sinatra biopic next, British big-band singer Rick Guard has revealed that he's already been headhunted for a musical contribution to the project.

"When I got the email from Scorsese's people I thought it was a wind up," the musician tells The Sun. "I was then contacted by American agents looking to represent me and my website has gone ballistic with hits. There's been more visitors and emails to the site in the last two days than in the last year!"

While the U.K. tabloid reports that Guard has been recruited to record for the soundtrack, it seems plausible the musician could act as a musical stand, but as Sinatra's voice? Seems doubtful. Who knows what the thinking is there, but obviously an ol' blue eyes film would likely have others singing in it as well.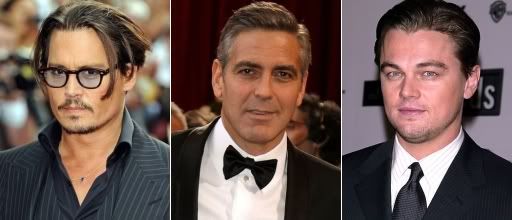 Last we heard, a three-way battle between Leonardo DiCaprio, George Clooney and Johnny Depp was taking place for the title role with each of actors backed by different parties behind the film's production: the director, the studio and Sinatra's family.

Development on the Sinatra biopic potentially spells disaster though for Scorsese's adaptation of "Silence," which was originally set to star Daniel Day-Lewis and Benicio Del Toro as two Jesuit priests in the 17th century subjected to violence and persecution when they travel to Japan to find their mentor and spread the word of Christianity. As we previously noted, "Silence" was always going to be a hard sell especially in today's day and age of sequels and remakes. But with a seemingly commercial effort like "Shutter Island" having already been shuffled out of this year's award-season slate into 2010, it's probably fair and safe to assume that we might have to wait a few years for "Silence." Bit of a shame as rumors had it that Scorsese took on 'Island,' specifically to appease his producer folks as a means to finally tackle the Jesuit priest film which has apparently been a pet-project of his for years that he's wanted to tackle.

For now it seems as though projects like "Silence" and the George Harrison doc will be taking a backseat to the Sinatra biopic (though the Harrison doc is something that can probably be worked on over the years and some team of editors are probably sifting through and collecting footage as we speak). Additionally, Scorsese just had HBO greenlight his series "Boardwalk Empire," the story of the 1920's king of Atlantic City, Nucky Thompson, to be played by Steve Buscemi and co-starring the likes of Michael Pitt, Kelly Macdonald and Michael Shannon. Scorsese helmed the pilot to the show, will act as an executive producer and is reportedly hoping to stay creatively involved — but hopefully not enough to eat up much of his 2010 free time. And yes, it is a British tabloid, but it's such a small story, who would make this up? That is unless Guard is really trying to get himself some free press... (which would be bad form and would blow up in his face if that was the case, we assume he's not that dumb).

Rick Guard - Stop It, I Like It