You apparently cannot keep a good director down. Despite the "Moneyball" drama earlier this year — of which the filmmaker shrugged and moved on in a response yesterday — Steven Soderbergh remains undeterred.

Not only that, he seems to have a penchant for females who are untested in their acting abilities and bringing out something in them that others clearly haven't noticed. Earlier this year he directed "The Girlfriend Experience" with non-actor and porn actress Sasha Grey and now he's lined-up his post-"Moneyball" project with yet another non-professional.

American Mixed Martial arts champion Gina Carano — who up until a few weeks ago had an undefeated track record — is set to star in the filmmaker's next project, said to be a mix between "La Femme Nikita" and the Jason Bourne spy films. Its working title is "Knockout," which could easily change.

Sounds like an odd project for Soderbergh? Not necessarily. The man is a filmmaker of omnivorous taste and just told the Orlando Sentinel that, "I'm running out of genres that I haven't tried." Enter the spygame, a field he hasn't yet tried and one that a rep for the filmmaker tells us he's been eager to tackle.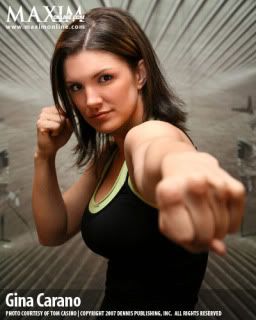 In fact, Soderbergh was once offered $15 million to direct a Bond film, and was initially interested, but turned the project down when he realized he wouldn't be able take it in a different direction.

The screenplay for "Knockout" is being written by none other than Lem Dobbs — the screenwriter behind Soderbergh's "The Limey," Kafka" and the hilariously contentious commentary tracks on the 'Limey' DVD that are total gold if you've never heard — and the picture is aiming to shoot in January/February 2010 as hinted at in the Orlando Sentinel article (Soderbergh mentions a project that could shooting early next year) which we then began to speculate about. And hey, we even said something about 'Bourne'. Who also loves to hint in advance? ;)

Several studios have been bidding for the project and Relativity and Lionsgate — who struck a multi-year output deal for five films a year in April — are working on a deal to finance and distribute this together.

In the interim, the prolific creative force will spend November and December in Australia directing a play for Cate Blanchett's theater company which we also reported on earlier this year. The rep also tells us Dobbs and Soderbergh's "The Limey" sequel is something the duo would like to collaborate on in the future. It's probably another article, but it sounds like money for "Liberace" and the crazy/awesome 3D rock musical "Cleo" are falling into place and both projects will likely get off the ground in 2010. We can only hope 'Bourne 4' stalls so "Liberace" doesn't lose Matt Damon who is scheduled to start that film in the fall or winter of 2010 (if it indeed does happen and they get the script — or the parallel script — off the ground).

Fuck, we've been sitting on this story for days, but wanted to get a bit more confirmation before we jumped out. But Variety has confirmed seemingly everything we already knew, so they get the kudos. The only thing their report has additionally it seems is that the supporting cast will be bolstered by name actors which is smart idea. Soderbergh is also waiving his upfront fee so he can retain ownership of the film, along with Relativity Media. Looks like 2010 will be another prolific year for the filmmaker with at least two pictures -- "Knockout" and "Liberace" -- shooting.