Danish director Nicolas Winding Refn is proving to be quite the busy bee this year.

After his brilliant "Bronson" debuted at this year's Sundance Film Festival — and is set for a limited release October 9 — Winding Refn decided to follow up the British prison psychopath film with "Valhalla Rising."

A Viking-actioner starring go-to-regular Mads Mikkelsen, we were admittedly pretty excited to this this picture, one that we put on our 13 Most Anticipated Films at the Toronto International Film Festival.

And the ambitious "Valhalla Rising" did not disappoint, but as for "action," that might have been a mis-selling of the film somewhat. Slow-burning, meditative, eerie and putting a premium on atmospherics before narrative, Winding Refn's 7th feature-film proves he's still one of the most exciting new directors working today even if he doesn't feel the need to thrill audiences with style, fast-pace and camera-moving conceits.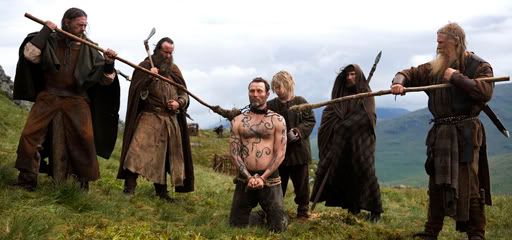 This is ostensibly what the electrically captivating "Bronson," is for. The desolate and disquieting 'Rising' is really a stylistic 180 from that theatrically expressive picture (which you must see, it opens October 9 via Magnet Films, seriously now) and moves at a hypnotic clip, stripping away most basic elements of cinema — music, plot, even dialogue are kept to a minimum as the picture chronicles a odyssey to a holy land mostly full of haunting howling winds and eventually, madness.

One of our contribs already described the film in a brief piece as, "Terrence Malick directing a horror movie," and that's not far off the mark. Danish actor Mads Mikkelsen (who starred in Winding Refn's first "Pusher" film) stars as One-Eye, a Viking warrior slave, captured and forced to fight for a Scottish clan on a barren coast. Divided up into five chapters, the movie just begins with no back story, so we must infer where we are and what came before. But Mikkelsen — who delivers a fear-inspiring performance with no dialogue and the use of yes, you guessed it, only one eye — is forced to fight for the pleasure and gambling of warring tribal factions.

Frightening and formidable, Mikkelsen fights handicapped with a dog collar around his neck attached to a stake in the ground, but nevertheless he disposes and dispatches all his opponents with blood-curdling ruthlessness. These sequences, while brutal, are unadorned; just two men grappling and fighting for their lives in a cold mud that might as well be on the moon.


Eventually, One-Eye discovers an escape route via a tiny arrow head he finds in a bathing pond and uses it to not only cut through his ropes, but to eviscerate and disembowel his captors in barbarously swift strokes. As a warning to all others, he beheads one of the leaders and savagely leaves his bloody cranium on a stick.

The only one left standing and kept alive is the young, unnamed boy who fed him food and water during his slavery and later dubs him "One-Eye." Eventually the boy (Maarten Steven) and One-Eye meet up with a clan of Scottish Christians. A show-down could ensue (and there's odd shades of Sergio Leone transposed to another climate throughout), but these warriors soon realize they're facing off against the feared and enigmatic slave who has slaughtered his way across the isolated mountain countryside and quickly back off.

Soon, he's convinced (or quietly just doesn't say no and walk away) into an ill-conceived plan to sail to the Holy Land for domination in the name of god. A dooming mist shadows their travels and eventually the travelers are dying of thirst and starvation, afloat in a nightmarish nowhere — a purgatory-like hell on the river to Hades perhaps. Some believe that the ghoulish shroud is a curse courtesy of their new guest, but any attempts on his or the boy's life — who they believe speaks for One-Eye through some godly bond — is met with swift death.

Miraculously, the few survivors are finally met with a hopeful glimmer of light that gives them passage to the new unknown land they've arrived at. Without getting too deep into the creepy and unsettling picture, the horde attempt to claim the new land, but madness, hallucinations and hidden warriors are all in store for them at some point. Unnerving and artful, it's perhaps up your interpretation as to what happens to these warriors as the film is doggedly equivocal and yet fairly evident and basic. You'll really just have to see it for yourself.

While there isn't a lot of music in "Valhalla Rising," — the spooky sound of nature is really the film's soundtrack — the score by Peter Peter and Peter Kyed (the Danish duo who did the music for Refn's "Bleeder" and "Pusher II & III," or at least Kyed did) when it appears is monumental: a molten doom-metal like mix of tribal, pounding drums, feedback and ghostly atmospherics (here's an example of their sound). There's one particular moment that is simply music to climbing a mountain that is awe-inspiring.

There will be a faction out there, that feel the glacially-moving Tarkovsky and even Kurosawa-like silent, yet epic moods are dull and go nowhere and like our hero would do, they should be drawn and quartered and dispensed with via a unyielding fury and the gnashing of remorseless teeth. Bold, unwavering and ferociously good. [A-]