We are flummoxed, confused, astounded and blown away by the enigmatic end of "A Serious Man," the Coen brothers deeply absurd, yet abstractly deep examination of penance, misfortune and gratuitous, unjustifiable, and cruel retribution from the Gods.

An incredible, ambiguous ending, that challenges "No Country For Old Men" with its breathtaking opaqueness.

Why is Hashem (God) unjustly punishing this feeble, but, faithful, loyal loving husband, father and school teacher (a truly revelatory Michael Stuhlbarg) Larry Gopnik?

Is it simply so the Coen brothers and the audience can laugh at his pitiful and pathetic miseries? Play God themselves? Or is it part of their twisted world view that no matter how virtuous you are, the fates can be sadistic and perverse if it so amuses them.

What does a Dybbuk (the soul of a dead person, often looking to possess a live person) prologue have to do with any of it?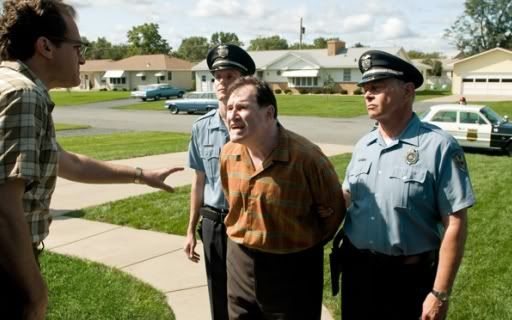 Examining themes of faith, family and fortunes, "A Serious Man," is a film about consequences, both unwarranted and equitable and a meticulously crafted film that demands a second viewing to soak up all the puzzle pieces and clues. It's a picture you need to meditate on, but breathtaking is really the word for it. It starts out rather humdrum and unremarkable, but as the story builds, lilts, exhales and then crescendos, it's like an incredible orchestra firing on every cylinder, virtuoso notes and vibratos being held just thusly.

It's also a very curiously odd, strange and weird film, much like the Coen brothers themselves, it's hard to make sense of, distinguish and penetrate. Perhaps this is why the idiosyncratic and extremely peculiar film is being dubbed as their most personal. It's not "weird" in that bizzaro manner, it's extremely disarmingly queer and off-the-wall, as if meeting a stranger you don't really know how to greet or talk to. It's sort of an intersection or car-pile crash-up of everything the Coen brothers want to discuss, which includes Judaism, mental instability, genius, coincidence and intellectual academic pursuits.


So after the aforementioned olden-times prologue that means who knows what — with the Coen brothers sometimes you just let them take you where they're going to take you — the picture sets down in a Midwestern Jewish suburban community in 1967. Pot, the '60s counter-culture and specifically the Jefferson Airplane are just starting to take hold. Stuhlbarg plays Larry Gopnik, a physics professor whose life is suddenly met with a hailstorm of calamities, starting as inconsequential annoyances growing to a fever pitch of personal disasters that threatens to destroy his sanity and ultimately test his chaste morals.

A disgruntled Korean student offers a bribe for a better grade, his ungrateful rotten children pilfer from his wallet and then ridiculously threatens defamation, a Columbia House Records retailer is hounding him with bills, and his wife (Sari Lennick) suddenly wants a divorce, leaving him for an unctuous and peaceable hippie (a fantastically oily Fred Melamed) named Sy Ableman, and a mysterious anonymous person is writing libelous letters that are threatening the professors tenure. Larry seemingly bends over backwards for everyone, is completely selfless — he lets his demented and socially awkward brother Uncle Arthur (a pitch perfect Richard Kind) board with the family for free, taking up an inordinate amount of bathroom time draining a pustule from his neck — but is generally rewarded for his actions with a karmic slap in the face. This is a man perennially being taken advantage of and perhaps receiving chastening for not having stronger fortitude.


While seemingly not particularly fervent in his faith, but not a doubter either, Larry visits with two of the community's Rabbis in hopes of sage guidance, but is generally met with comical riddles that confuse and provide no answers — are there punitive godly measures for expecting answers? This remains unclear.

Slight reprieve comes in the form of Adam Arkin, who plays a sympathetic lawyer trying to convince Larry that he's being played for a fool and that he must protect his own interests in his divorce, but soon kismet seems to encroach in this sanctuary as well. It's as if a black cloud and an unstoppable and merciless storm is coming to get Larry for one of his small trangressions. Is it for smoking pot with the hot cougar neighbor (Amy Landecker) that he watches sunbath nude next door or perhaps considering taking his student's bribe? Like any good pious servant of God, he is haunted by guilt in his dreams for every little infraction.

To call "A Serious Man," a black comedy really doesn't do it justice and alludes to something with much less weight and significance. The picture is more accurately described as a serio-comic tragedy about the ramifications and chain reactions of choice. Not to mention the futility of struggling against the universe when it's seemingly against you. The film's opening quote, "Receive with simplicity everything that happens to you," indicates it all.

Curiously, a small portion of the tale is told through the eyes of Larry's profanity-happy, stoner good for nothing son, Danny (Aaron Wolff) and the conclusion that seems to be seen through his eyes is perhaps the clue to solving the riddle of the film (if it is indeed meant to be solved at all).


The craft, as if this needs to be said on a Coen brothers film is first-rated and top notch. Carter Burwell's score is one of his most luminescent and haunting Coen compositions in years, Roger Deakins' cinematography is brilliant and full or portent when needed and the economic, perfectly paced editing by Roderick Jaynes (the Coens) is as masterclass as always. These two are like a constant proficient workshop in how to manufacture a narrative framework. Often times, any capable director can film a decent script. In the case of the Coen brothers, no one else on Earth could possibly make their unique films; it would just be an impossibility and pointless act to try and capture those sensibilities.

While the film isn't exactly perfect, the beginning is rather slow and uninvolving and those that have no sense of Judaism might feel left in the cold for quite some time, with 10 Best Picture nominees this year, the Coens slyly funny (only wry laughs here, the broad gestures are kept in check), unconventional, and acutely esoteric minor masterpiece will surely have secured itself an Oscar nomination this year. [A-]