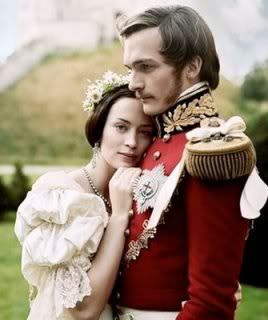 It's easy to go in dreading "The Young Victoria." Costume drama fatigue sets in remarkably quickly come awards season, and the trailers for the film didn't seem to distinguish it particularly from other recent lukewarm pictures in the genre, like last year's "The Duchess." But a strong cast, and the presence of Martin Scorsese among the film's producers (listed alongside Sarah Ferguson, the Duchess of York, in one of the stranger pairings in film history...) lent a little hope, and we're happy to report that the finished product is , for the most part, a pleasant surprise.

Focusing on Victoria (Emily Blunt), who went on to be Britain's longest reigning monarch to date, between the ages of 17 and 21, and taking in her ascension to the throne and her marriage to Prince Albert (Rupert Friend), the nephew of King Leopold of Belgium, the film is fairly light on plot, focusing instead on the deepening courtship between Victoria and Albert.

Because of the lack of real drama, the film at times risks feeling insubstantial. In places, the script (by "Gosford Park" scribe Julian Fellowes) verges on etiquette porn: there are an awful lot of scenes of curtsying, and table-setting. Furthermore, a sub-plot, with Victoria's mother (Miranda Richardson) and Sir John Conroy (Mark Strong) plotting to undermine the young princess, is a bit of a damp squib, never really picking up enough momentum, but also sticking around in the narrative long after it's served its purpose. But once you settle into the rhythm of the film, you realize that, when it succeeds, it isn't a Duchess-style forbidden love story, but a rather delicate look at the start of a long, happy marriage.

This is helped to no end by two exceptional performances by Emily Blunt (as we predicted not too long ago) and Rupert Friend. Blunt impresses more and more with each part, but this is a real career best for her. She shows the steeliness and determination of a future monarch, but never lets you forget that Victoria is only in her teens, showing glimpses of petulance and naivety. It's absolutely an awards-caliber performance, and we wouldn't be surprised to see her among the Oscar nominees at the year's end. We've been con
vinced of Blunt's greatness since "My Summer of Love", but it's Friend who's the real revelation. Best known as Keira Knightley's other half, he did a solid job as a Nazi in last year's "The Boy With The Striped Pyjamas," but here, he manages a tricky balancing act, portraying an innate goodness while still showing the arrogance of privilege. They're dynamite together, displaying a rare chemistry - they carry the movie on their shoulders, and you can't fail to be moved by the strength of the relationship that the actors develop.

The supporting performances are uniformly strong, although we worry that Mark Strong, as watchable as he is here, is starting to spread his villainy too thin - aside from this, he's also playing bad guys in "Sherlock Holmes," "Kick-Ass" and "Robin Hood," all in the next year (even mid-90s-era Gary Oldman didn't pack them in that frequently...). Other than Strong, however, Jim Broadbent is typically great as the dying king, while Paul Bettany takes MVP status among the supporting cast as Lord Gladstone, playing the Prime Minister as a deeply shady, ambiguous character, but one with a real affection, and possibly more, for the young queen.

It's certainly a beautiful film to look at it (if you like, you know, palaces and pretty frocks - like "The Duchess," it's a film made from the first with the intention of winning the Best Costume Design Oscar...) and French-Canadian director Jean-Marc Vallée ("C.R.A.Z.Y."), while not re-inventing the genre in the way that Joe Wright or Sofia Coppola have in recent times, seems to have encouraged the actors to a lightness of touch in their performances that almost gives it the flavor of a contemporary coming-of-age movie.


It's unlikely to be one for the ages, and it's certainly not flawless - a fictional assassination attempt in the last reel is a little cheap, there's one rather awful dream sequence, and the script occasionally drops a clunker like 'I was born the youngest son of a penniless Duke. Now I'm the king of the Belgians' (try not to laugh when Thomas Kretschmann says it, we dare you...). But "The Young Victoria" is more than worth checking out when it goes on platformed release from new company Apparition from November 13th. [B]