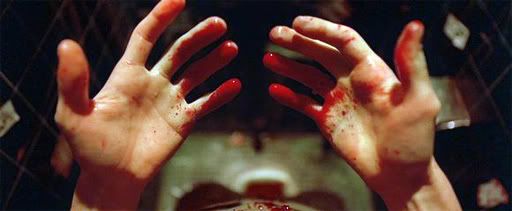 In retrospect, it seems that Gaspar Noe's unwieldy and tripped-out epic "Enter the Void" may have caused more of a stir at Cannes (instead of just off-handed dismissal) had it premiered before Lars Von Trier's "Antichrist." By the time 'Void' lumbered onto the screen at the tail end of Cannes, the aborted fetuses, excessive drug use, endless, explicit sex (including one scene made to look like it was filmed inside a vagina) and ambient visual passages akin to those in the Von Trier provocation, may have had less impact due to collective numbness. Or maybe the journalists were all just sick of being shocked, having kicked up enough dust over the genital mutilation and bloody ejaculations in "Antichrist" to hold them over for the next few festivals, let alone bother storming about this new film nobody much liked anyway.



There's another explanation though: "Antichrist" runs under two hours, one of the shorter films in competition at Cannes this year, while "Enter the Void" is a monstrous, near-three hour odyssey that saves the really disturbing stuff for its back nine – when half its audience has already walked out. It's such a challenging and structurally rigorous work (if also formless and plodding) that one almost has to admire both Noe's audacity and his commitment. But what begins as a "Memento"-esque rewind narrative, leading to a seemingly perfect point of conclusion, trucks on into tedium for over an hour more, eventually descending into dime-store David Lynch mind-fuckery, only to reveal its vaguely redeemable ends. It's a roller-coaster ride – both because the camera swoops, dives and pirouettes, and because there's an actual roller-coaster in the film – but any kind of tension or even attention it hopes to hold is nullified by Noe's own persistence and an infuriating (even ingratiating) sense that the director is sitting behind the screen, dropping LSD and whispering to himself, 'Hold on guys, I'm getting to the point.'

"Enter the Void" revolves completely around a skin-headed 20-something drug dealer named Oscar (Nathaniel Brown), whose perspective the film is told from both before and after the young man's death (hold on a tick). Following a barrage of neon-lit credits flashing furiously against a black screen (epileptics, beware) we see through Oscar's eyes ("Diving Bell and the Butterfly"-style) his sister, leaning over a balcony overlooking a bustling Tokyo street. She is Lisa, played by "The Limits of Control's" nude temptress Paz De La Huerta, and she's warning her brother about the dangers of his drug habit. Oscar ignores her concern and, after she leaves, smokes some gear. It's at this point – that is, if the first person POV wasn't enough – that we come to realize what a trip we're headed on, as Noe makes manifest Oscar's drug-induced haze through MacBook screensaver-worthy visuals of twisting, rainbow-colored strands weaving and wiggling through darkness. This is also the first hint that Noe kinda sorta maybe doesn't mind taking his time a bit.


Oscar is jolted out of his dreamscape by a phone call commanding him to bring some of his drug stash to a local club, The Void, and then interrupted again by a knock at the door from his friend Alex (Cyril Roy). In the film's most grounded and literal passage, Oscar and Alex walk the stretch of road from the former's apartment to The Void; and along the way Noe plants hints and plot details pertaining to the lives of Oscar and Lisa (and to the director's own thematic intents) that will later be referenced again and again, as the film transitions to a more elliptical structure. But first, inside The Void, Oscar discovers that the man on the phone set him up, and as the cops rush him, Oscar ducks into a bathroom to flush his gear. When he discovers the toilet's busted, he tells the cops, aggressively pounding on the door, that he has a gun, to which one of the officers responds by shooting and killing Oscar.

Then things get weird. Noe slowly – oh so very slowly – establishes the process of Oscar's soul leaving his body just as the camera breaks free of Oscar's POV. The soul travels through walls and down streets to where Lisa does striptease in a club, following her as she heads back stage and has sex with her Japanese boss, Mario (Masato Tanno). Meanwhile, outside The Void Alex has been waiting for Oscar to finish his dealings, and when he discovers he's been shot and killed by the police, he calls Lisa to tell her the bad news. Oscar watches silently from above as his sister cries hysterically. Then, with one swift motion he dives headlong (the camera with him) into the glowing red surface of a lamp.



Pause and rewind. Noe sets his spiritual journeyman on an odyssey through his own life, from infancy to the present. It's here that Noe turns in his best work, effectively humanizing his characters and providing context for Oscar's death. He makes a curious accident into something of a tragedy, and even establishes a touching, almost harrowing relationship between Oscar and Lisa, two children who lost their parents in a devastating car wreck (here depicted as abrasive and haunting as a similar sequence in Francis Ford Coppola's "Tetro," and just as impacting on the life of its protagonist). He intricately weaves the relationships as they develop between each of the principal characters and believably depicts Oscar's descent into the underworld of Tokyo's drug scene. Most crucially, he establishes the necessary role Oscar's chosen path had in reuniting him with his sister after years of living in separate foster homes.


There's a point in "Enter the Void" where the narrative folds back on itself, where we find Oscar and Lisa back on that balcony, her warning about his addiction resonating more now than it did earlier, since we know what comes next. Noe could end his film here, and though it would still have its flaws and dragging moments, it would seem a more successful than unsuccessful experiment in elliptical storytelling, with added abstract-psychedelic verve. Instead, Noe persists, and 'Void' goes from being an uneven curiosity to a trainwreck of a trainwreck, an indulgent mess of simulated camera movement as our view zooms in and out through surfaces, acting like one of those MTV videos where you see a TV set on a TV set on a TV set. The filmmaker does have a goal, as he makes explicit in the film's final moments; and probably before that to, but I wasn't all there in the last hour. Still, Noe pushes and pushes for us to give up on his film, as it follows one strange, ill-informed tangent after another. And, eventually, we do just that. [D] - Sam Mac.