There's really no messing around with this promo image for Sebastian Gutierrez's new upcoming camp sex comedy, "Women In Trouble," starring the director's girlfriend/longtime partner Carla Gugino and a gaggle of hot stars traipsing around half naked (Adrianne Palicki, Connie Britton, Marley Shelton,Emmanuelle Chriqui, Cameron Richardson, Caitlin Keats, Elizabeth Berkley).

The husband and wife duo know décolletage and sex and that's right up front and center on this image. And they might need it too. "Women In Trouble" shot down and dirty on the cheap in about 12 days. All the big name actors — including Josh Brolin, Simon Barker, Sarah Clarke, Joseph Gordon-Levitt — all essentially worked for nothing and appeared in the film as favors.

But is it good? Hmmm. We saw the first 30 minutes of it at SXSW, but then had to leave for "Brüno" — it was an assignment we couldn't miss — and it was.... not great. Super, super campy and perhaps just a riff or a semi-satire of a porn film (equal acting, lighting and production values)? But perhaps we shouldn't totally throw it under the bus. One of our contributors did see it and seemed to enjoy it more then we did, but they would definitely know as they were there for the entire film. Choice bon-mot from our review: "All I can remember is lots of boobs and talk of pussy-eating." Hey, it was a female contributor who wrote that.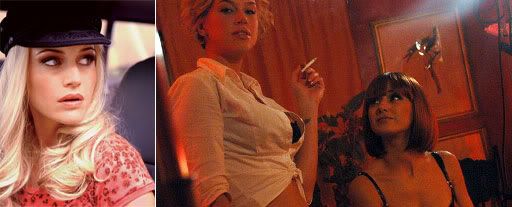 What's it about? It basically chronicles one day in the lives of 10 Los Angeles women and focuses on Carla Gugino's character who knows all the other girls and is the narrative thread that ties them together. They include a porn star, a flight attendant (Shelton), a psychiatrist, a masseuse, a bartender, a pair of call girls, etc. All of them with one crucial thing in common. Trouble.

The film has no release date yet, but hits theaters November 2009. Here's a clip from the film about porn stars, bras and uhh, "celebrity vaginas."