One of the main attractions, and worst kept secrets, at this year's Telluride Film Festival was the "secret" screening of Jason Reitman's downsizing/frequent-flyer dramedy "Up In The Air." Having just taken place yesterday, reviews have started coming through and buzz is already quickly building, especially through Twitter.

One blogger who couldn't resist to turning to Twitter for a quick, early review was Indiewire's Anne Thompson. "Up in the air is a winner," she tweets. "Hits the zeitgeist on the nose. Funny, witty, real, sad. Awards season in the offing. [George] Clooney tops."

Thompson later churned out a blog review calling the film "a witty, charming and moving exploration of a world we all recognize" that centers on "the loneliness of a long-distance air traveler, a commitment-phobe not unlike George Clooney, who decided to stare that aspect of himself in the face." Thompson adds that Reitman "delivers a winner" that lives up to all expectations and concludes the review by reiterating earlier sentiments, "Award season beckons. This one is in the hunt."


Kris Tapley from InContention calls the film a "triumph" and a "four-star knockout." "It drips with Reitman's passion, his love for his wife and child, his assessment of his own journey into adulthood," Tapley writes. "He just finished telling the audience at the Chuck Jones Theater that it's probably the most personal film he'll ever make. One can certainly understand the sentiment...[The film] couldn't have hit the country and, to speak personally, me, at a more perfect time."

Taking into account Tapley's thoughts, an unnamed "seasoned entertainment reporter" writes into Hollywood Elsewhere with a positive but less glowing review. "I liked 'Up In The Air' but I wonder how many people will Kris Tapley-level love it. Off the record, before I collect my thoughts, I'd say I liked and admired it a lot, but wish I had loved it that much. There's a semi-downbeat ending that helped redeem the film for me but will leave a certain amount of 'Juno'-lovers cold. And there's one really bad supporting casting choice I'll get into.." [ed. do they mean Anna Kendricks? Jason Bateman can't be that bad, can he?]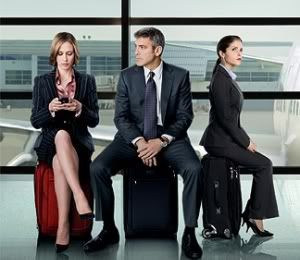 Alex Billington from FirstShowing also noted "a few issues in its third act" writing that the film "hits some rough spots as it progresses on, although they're mixed in so well with the humor and the more sentimental moments, that it's easy to look past them." He was particularly full of praise for Anna Kendrick who, as he writes, "goes toe-to-toe with Clooney in a big way, which was beyond impressive for an up-and-coming actress like her... her relationship with Bingham [Clooney's character] I think is the best part of the film."

More reviews will trickle in today, we're sure.

Update: the trades have jumped in with their reviews. Variety seems to like the picture but gives it a lot of backhanded compliments and suggests it's light fare. " 'Up in the Air' is a slickly engaging piece of lightweight existentialism highlighted by winning turns from George Clooney and Vera Farmiga. Just as 'Thank You for Smoking' and 'Juno' did in their own ways, Jason Reitman's third film cleverly taps into specific cultural aspects of the contemporary zeitgeist, although in a somewhat less comically convulsive manner. Unlike many of the characters onscreen, nobody is going to lose any jobs on the basis of their work here, as a buoyant commercial flight lies ahead."

THR has less concerns and basically says the film is a uncontestable triumph, not to mention they compare him to some of the all-time great comedic directors. "Cynicism and sentiment have melded magically in movies by some of the best American directors, from Preston Sturges and Billy Wilder to Alexander Payne. It's pleasing to report that he's taken another rewarding journey down this prickly path in his eagerly awaited new film, 'Up in the Air.' Boasting one of George Clooney's strongest performances, the film seems like a surefire awards contender, and the buzz will attract a sizable audience, even though some viewers might be startled by the uncompromising finale."