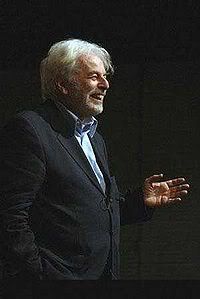 Cult director Alejandro Jodorowsky, the wildly perverse and unique mind behind midnight movie classics "El Topo" and "The Holy Mountain" is about to step behind the camera once again. Out of the game since 1990's "The Rainbow Thief," the filmmaker has reportedly found the funding for his long-planned, formerly-abandoned "Abelcain." The film's original incarnation was as a direct sequel to "El Topo," dealing with the sons of the first film's protagonist, though a recent synopsis is somewhat different. From Quiet Earth: "Upon the death of their mother, Abel and Cain embark on a journey to bury her holy body next to their father's grave on a forbidden paradise island. But the island's treasures attract numerous kidnappers with different plans."

What does this mean for Jodorowsky's next film, "King Shot?" "Shot" was rumored for an October shoot, but we have no information on the metaphysical western, which was to star Nick Nolte, Asia Argento, Udo Kier and Marilyn Manson. Manson has also long been linked to "Abelcain," which has been rumored for nearly two decades now, so it's possible some of the interested parties finally funding Jodorowsky's passion project are also behind "King Shot," currently set up at David Lynch's Absurda Films. Parallel Films are currently the main force behind "Abelcain"'s new funding but, like "Shot," we imagine Jodo will have to scrap up additional funding from other sources in order to complete his work.

"Abelcain," which has a script floating around somewhere online, was a hot project in the nineties, with Manson supposedly recruiting the likes of Johnny Depp. Could Jodo go from a self-proclaimed psychomagician and fringe personality in America to a suddenly hot director again? Now that Peter Berg has departed "Dune," perhaps Jodo can return to his preposterous original vision of Frank Herbert's tale? Too much? Yeah, probably.