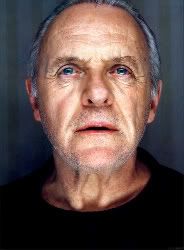 If you need someone to play a father figure in your big-budget action movie, bye-law 485 of the Director's Guild of America states that you must offer the part to Anthony Hopkins: from "The Mask of Zorro," to "Beowulf" and next year's "The Wolf Man," he's clearly the go-to guy. The Oscar-winning actor is adding one more to his application to the mentor hall of fame (which also includes Liam Neeson and Morgan Freeman among its ranks) by negotiating to join the cast of Kenneth Branagh's Marvel Comics adaptation "Thor."

Hopkins would play Odin, the Norse God and father of both the central character, the hero Thor (Chris Hemsworth) and the villain, the mischievous Loki (Tom Hiddleston). Odin takes a fairly benevolent role in the Marvel comic books, although does occasionally strip his son of his powers, apparently. The cast also includes Natalie Portman as Thor's love interest, Jane Foster, Jaimie Alexander as the Norse warrior Sif, Samuel L Jackson as Nick Fury, and Colm Feore and Stellan Skarsgard in unrevealed roles. Recent rumors have also linked Robert De Niro, Jude Law and Dominic Cooper to parts, although although the first two seem to have been debunked now.


All in all, it's a good cast -- not many big names, Hopkins and Portman aside, but good actors all (although Alexander and Hemsworth are relatively unknown quantities, and you could argue Hiddleston is too, except we saw him on stage in "Othello," with Ewan McGregor and Chiwetel Ejiofor, and he's going to do a great job). We still think the source material could potentially look pretty silly on screen, but at least the acting'll be top notch.