The Black List, the annual compilation of Hollywood executives' favorite unproduced scripts, has become something of an institution, despite only starting in 2006.

So much so, in fact, that it's inspired a British imitator, the Brit List, which has been headed up in its first two years by "The Men Who Stare At Goats" and John Lennon biopic "Nowhere Boy," both of which are due for imminent release. Friday saw the release of this year's list. To qualify, a script had to be by a writer born outside the U.S., and receive at least two nominations from a panel of over 40 industry experts. We've done some digging into the list, which we you can see below, and where possible, we've tried to unearth some new details on each project, to give you an idea of what may be hitting the awards circuit a year or two from now. So, the top ten, in descending order...


1. "Good Luck Anthony Belcher" by George Kay - From Ruby Films, the producers of "Elizabeth" and "Sylvia", this reteams writer Kay with director Jim Field-Smith (a comedian who is currently helming the Jay Baruchel rom-com "She's Out Of My League"), who collaborated together on the short film "Where Have I Been All Your Life?" (Watch it here!) The pair will reunite with TV star James Corden (who will play Jack Black's sidekick in next year's "Gulliver's Travels"), star of that film, for a Charlie Kaufman-style fable about "a loser who is awarded a week of perfect good fortune by the celestial Department of Good Luck," according to the Guardian.

2. "Corsica 72", from longtime Bond screenwriters Neal Purvis and Robert Wade, described as the "definitive Italian gangster movie."

3. "Now Is Good," an adaptation of Jenny Downham's young adult novel "Before I Die," about a teenager dying of leukemia. The script's by Ol Parker, husband of Thandie Newton, and writer-director of lesbian rom-com "Imagine Me & You."


4. "Salmon Fishing in the Yemen," Oscar-winner Simon Beaufoy's adaptation of a bestselling novel, about a henpecked civil servant sent to, yes, introduce salmon to the Yemen.

5. "Balance of Power," writer Deborah Davis' adaptation of her own radio series, about the relationship between Queen Anne (1702-1714, history fans!) and her best friend, the Duchess of Marlborough.

6. "Best Exotic Marigold Hotel," co-written by Deborah Moggach ("Pride and Prejudice") and Ol Parker, this is an adaptation of Moggach's novel "These Foolish Things," about an overworked London doctor who decides to set up a retirement home back in India.

7. "The Rapture," from Daniel Hardy and Rupert Wyatt, who were behind the brilliant, and woefully underseen Brian Cox/Joseph Fiennes starrer "The Escapist." Based on the novel by Liz Jensen, it focuses on a paralyzed psychologist treating a disturbed girl who may hold the key to a series of natural disasters.

8. "Conviction," Bill Gallagher's adaptation of his own 2004 BBC TV crime series, about two police officer brothers who cross the line while investigating the murder of a 12 year old girl. Bears comparison to the likes of Dennis Lehane and James Ellroy.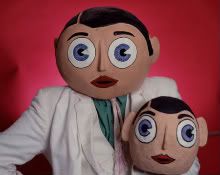 9. "Frank" by "The Men Who Stare At Goats" writers Jon Ronson and Peter Straughan, this is one of the oddest sounding scripts on the list. Frank Sidebottom is a character, played by comedian Chris Sievey, who wears a fibreglass cartoon head, and is a cult figure in this writer's beloved Manchester. Brendon at Slashfilm did some excellent digging, and managed to talk to Ronson, who used to play in Sidebottom's band, and confirmed that "It's a fictional story inspired by my time with Frank." The closest comparison I can find for US readers is if Triumph, The Insult Comic Dog was starring in a movie...

10. "I Wish, I Wish," written by Peter Souter. Details on this are pretty thin, other than it's set to be directed by rising star Otto Bathurst (TV hit "Criminal Justice"), and is a vehicle for the retiring Doctor Who, David Tennant.

Other notable films on the list include:

- "Love Minus Zero," by Emma Forrest, who's also writing Richard Linklater's upcoming "After A-E." This is an adaptation of Nikita Lalwani's novel "Gifted," about a ten year old British Asian maths prodigy.

- "The Shimmering Essence Is Approaching Its Target," formerly known as "Ponte's Tower," based on the novel by German writer Norman Ohler. The script, by "Backbeat" writer Michael Thomas, focuses on the tallest residential skyscraper in Africa, and has been circled by Danny Boyle for some time, although he's yet to commit to it.


- "A Bear Called Paddington," a screen version of the beloved children's character, a polite Peruvian bear who is found at Paddington railway station by a kindly family. The script's by Hamish McColl, who was behind the Broadway smash "The Play What I Wrote," and Paul King, helmer of "The Mighty Boosh" and the upcoming "Bunny and the Bull," who's attached to direct.

- "Embassy" from Jon Baird, writer-director of the football hooligan movie "Cass," this is a thriller about the real life siege at the Iranian Embassy in 1980, which ended after nearly a week when the SAS stormed the building.

- "Eurovision," a project for Working Title from "Bruno" and "Borat" writer Dan Mazer, focusing on the bizarre ritual of the Eurovision song contest, an annual festival of kitsch... The Sun were speculating a few months ago that this would be the next mockumentary to star Sacha Baron Cohen, but our sources tell us that, while Baron Cohen is likely to star, the film abandons the Borat format, and has a more traditional narrative.

- "Grabbers," a comedy-horror set in Ireland, in the vein of "Tremors" and "Gremlins," from first time writer Kevin Lehane, set up with the producer-director team behind the above-average teen slasher movie "Tormented."

- "Great Expectations," the umpteenth adaptation of the Dickens novel, from writer David Nicholls ("Starter for Ten," "And When Did You Last See Your Father")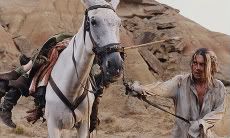 - "The Man Who Killed Don Quixote," the long-delayed dream project from Terry Gilliam and Tony Grisoni. We were at a BAFTA event with Gilliam last night, and he told the audience that the script has been substantially rewritten since they retrieved the rights. The film's set to shoot in April next year, and Gilliam announced that he's cast his Don Quixote, although he wouldn't reveal who.

- "Rafta, Rafta," Ayub Khan-Din's ("East Is East") adaptation of his own play, about marital difficulties within an immigrant Indian family.

- "Red Circle," a remake of Jean-Pierre Melville's classic crime film, "Le Cercle Rouge," from "Eastern Promises" scribe Steven Knight. Last we heard, Johnnie To was set to direct, and Orlando Bloom, Tim Roth and Chow Yun-Fat were likely to star, but that was a while back, and we haven't heard anything on it for a while. How excellent would that be though?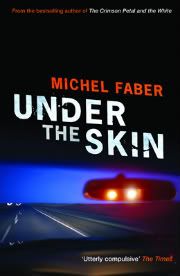 - "Trap for Cinderella," Iain Softley's adaptation of the novel by Sebastien Japrisot ("A Very Long Engagement"), about a woman who survives a house fire, burnt beyond recognition.

- "Under The Skin," the great Jonathan Glazer's long awaited adaptation of Michel Faber's science fiction novel, about hitchhikers in Scotland abducted by aliens. We're huge Glazer fans, and we can't wait for this — it's hopefully shooting next year.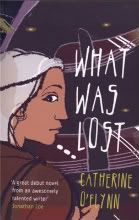 - "The Wettest County," which we reported on last week, and has Ryan Gosling, Scarlett Johansson and Shia LaBeouf circling it. What we didn't realize at the time, although it makes sense, considering that regular collaborator John Hillcoat is directing, is that the script is by Nick Cave. Yep, we're in.

- "What Was Lost," Catherine Flynn's Booker Prize-nominated novel about a shopping center haunted by a 10 year old girl, adapted by Jeremy Brock ("The Last King of Scotland").

So, a ton of adaptations, but plenty of intriguing material, and less stacked with Apatow knock-offs than last year's Black List. We're gonna have a dig around and see if we can get hold of some of these scripts, so we'll report back if and when we do.