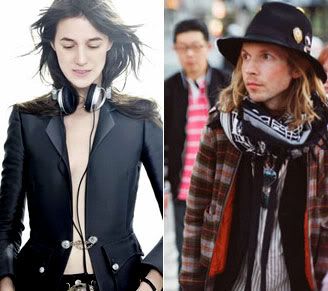 The title track from Charlotte Gainsbourg's new album IRM, produced by Beck has been given out for free on Gainsbourg's official website.

The first official single will still be the song, "Heaven Can Wait," which is a duet with Beck and the album is expected, January 2010 (though this French-centric blog says December 11, Update: we've confirmed, the album actually comes out in France on December 7). "Heaven Can Wait," will be released in France on October 19. Only one song on the album is sung in French and it's actually a cover of a Quebecois song, "Le chat du Café des artistes" by Jean-Pierre Ferland (the song is below).

"IRM" the song, is very obtusely robotic, almost as if Gainsbourg and Beck were trying to channel English retro-futurists, Broadcast, there's a reason for that, Beck is a fan.

Anyhow, give it a listen and see what you think. It's an odd, but engaging track and it's probably not what you expected, but that's always a good thing. Gainsbourg's latest movie is Lars Von Trier's "Antichrist" a film that hits U.S. theaters in limited release on October 23 and won her the Best Actress award at Cannes earlier this year (watch the trailer). PS, we've got wind of another interesting Beck collaboration in the works, but it's not with a filmmaker of any kind so we'll leave it for someone else to break. Think Pacific Northwest.

Jean-Pierre Ferland - "Le chat du Café des artistes"