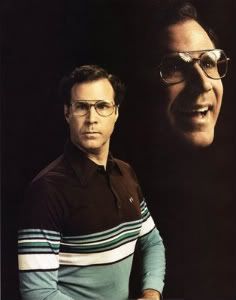 It placed high on the 2008 Black List, and is evidently Carson 'ScriptShadow' Reeves' favorite script of all time, but Raymond Carver adaptation "Everything Must Go" has been moving pretty slowly towards production. Until today, that is, with the news from Variety that Will Ferrell has signed to play the lead. Based on Carver's story "Why Don't You Dance," it centers on a man who, when thrown out of his house by his wife, starts to live on the front lawn, trying to sell his possessions.

It's set to be directed by commercials director, and the film's screenwriter, Dan Rush, who wrote the script on spec as a showcase for his directing skills, and is being funded independently, on a $10 million budget, via Temple Hill Productions, who are behind the "Twilight" series. This is a tiny project for the start.

It's good to see Ferrell branching out a little bit -- while we love the brilliant stupidity of "Anchorman" and "Step Brothers," some of his other comedies can be pretty terrible ("Semi-Pro," "Blades of Glory"), but he gave an admirably straight-ish performance in "Stranger Than Fiction" (even if the film itself wasn't so-so at best). Reeves seems, well, a little concerned at the casting, but we'll keep the faith for the moment, at least until we have a proper look at the script. Variety says that Rush met with several leading men, so if the director's picked him, that's got to count for something, right?