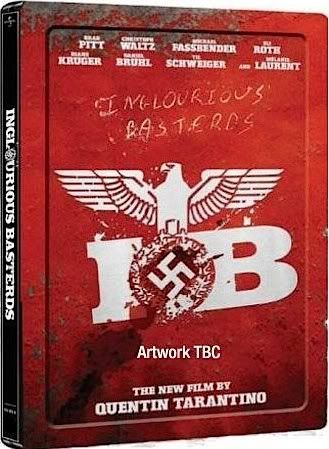 The holiday season just got a little bit brighter for Quentin Tarantino fanboys. As we previously speculated, Universal has confirmed December 15th for DVD and BluRay release of "Inglourious Basterds" (we're really getting tired of intentionally misspelling that). Earlier this year, the financially strapped Weinsteins sold the DVD distribution rights to Universal who will be handling the release.

The timing of the release falls in line with our previous report that Harvey is eyeing a cheap and dirty Oscar campaign for Tarantino's latest indulgence that surprised pretty much everyone at the box office (taking in nearly $120 million in the United States alone), and also earned its fair share of critical plaudits. An Oscar season home video release will be a far cheaper way to get the movie into the hands of Academy members, rather than manufacturing individually watermarked DVDs which can cost up $20 a throw.

We naturally assumed that the release would be a bare bones affair, but you can count us surprised at the number of mostly BluRay exclusive extras that will be on the disc. Here's a run through of what you can expect:


* Extended & Alternate Scenes
* Lunch with Goebbels - Extended Version
* La Louisiane Card Game - Extended Version
* Nation's Pride Begins - Alternate Version
* Nation's Pride - Eli Roth's short film in its entirety
* Roundtable Discussion with Quentin Tarantino, Brad Pitt and film historian/critic Elvis Mitchell [BD exclusive, in HD]
* The Making of Nation's Pride [BD exclusive]
* The Original Inglorious Bastards - a salute to the original 1978 film
* A Conversation with veteran actor Rod Taylor [BD exclusive, in HD]
* Rod Taylor on Victoria Bitters, the Australian beer [BD exclusive, in HD]
* Quentin Tarantino's Camera Angel [BD exclusive]
* Hi Sallys - Gag Reel [BD exclusive]
* Film Poster Gallery Tour with Elvis Mitchell [BD exclusive]
* Inglourious Basterds Poster Gallery [BD exclusive]
* Domestic and International Trailers [in HD]
* BD-Live
* Digital Copy of Inglourious Basterds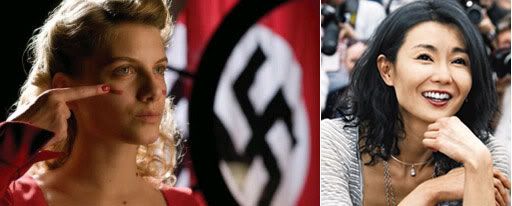 Despite the wealth of extras, this is certainly not going to be the definitive release. With the absence of any deleted scenes — most notably those involving Maggie Cheung and Cloris Leachman — as well as the changes made between the Cannes and theatrical cuts, you can bet there will be some sort of "Ultimate Basterds" edition (feel free to use that QT) somewhere down the line. But given at the pace Tarantino preps these special editions, you can expect it sometime in the next ten to fifteen years. He's still working on "Kill Bill: The Whole Bloody Affair" for God's sake. There isn't any final artwork yet, but what we have pictured is apparently what the U.K. limited edition version will look like so you can probably expect something similar.

Though Christoph Waltz pretty much has a lock on a Best Actor nod, with the Weinsteins juggling two other serious Oscar contenders — "Nine" and "A Single Man" — all with very little cash to spare, don't count on any kind of extended campaign for Tarantino or the film [ed. - They'll probably not try and run against themselves with Day-Lewis and Colin Firth so they'll throw Waltz in the Supporting category, which is arguably where he should be regardless]. They will be plenty happy with whatever they can get.