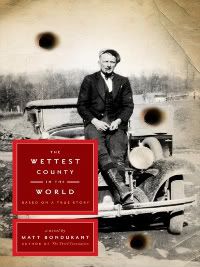 It's gotten pretty mixed reviews, but we more or less loved "The Road," despite a few flaws. Director John Hillcoat has been filling up his slate of late, including an adaptation of the novel "The Wettest County in the World," a depression-era crime drama about three brothers who ran a bootlegging gang during the Prohibition, which was set up at Columbia. The studio recently put it into turnaround, but producers Douglas Wick and Lucy Fisher ("Jarhead," "Memoirs of a Geisha") have been attempting to finance it independently, and it sounds like the movie is getting some heat.


The Risky Business blog reports that Wick and Fisher are pitching the project with a number of big name young actors attached (although none appear to be signed). Shia LaBeouf, Ryan Gosling, Scarlett Johansson, Paul Dano and Michael Shannon have all been mentioned in connection with the picture. We're big fans of most of these actors (I think you'll be able to guess the exception...), and the thought of the likes of Shannon and Gosling working with Hillcoat is pretty exciting, considering the material sounds right up the director's brutal, bleak alley.


One could argue that a cast like this could make the film look like Vanity Fair's recent Depression-era photoshoot, but we're sure that Hillcoat would stop it from being too glossy. The project is not yet financed, or in pre-production, and it's likely at least one of these actors won't end up making the final cast, purely because of their busy schedules, but fingers crossed this gets made - it could prove to be everything that "Public Enemies" wasn't. As Risky Business points out, there's a recent history of studio movies being placed in turnaround, but managing to find finance elsewhere - both Darren Aronofsky's "Black Swan" and Ryan Fleck and Anna Boden's "It's Kind of a Funny Story" have had similar histories, and are about to start filming.